We have been having fun in the kitchen a lot more lately & it hasn't been to make food. We have been doing science experiments from Exploring Creation with Chemistry and Physics.
Exploring Creation with Chemistry and Physics
is Jeannie Fulbright's newest book in the Young Explorer Series from
Apologia Educational Ministries
. This K-6 grade homeschool science curriculum uses the Charlotte Mason method to give students an introduction to chemistry and physics. To enhance our science experience we used the
Exploring Creation with Chemistry & Physics Notebooking Journal
and the
Exploring Creation with Chemistry & Physics Junior Notebooking Journal

.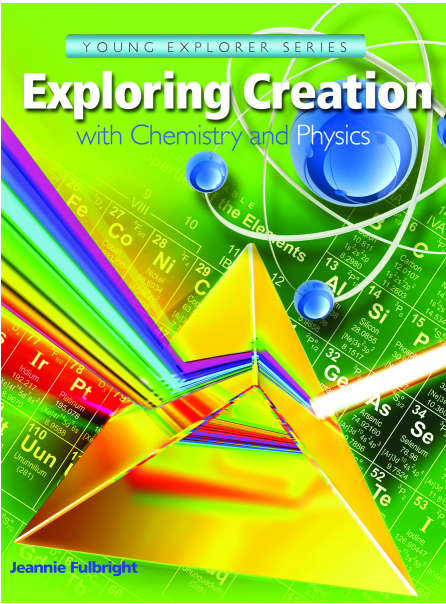 Exploring Creation with Chemistry and Physics
is a 280 page text book and can be purchased for $39.00. It is divided into 14 chapters and covers matter, building blocks of creation, chemistry, motion, sound, light, energy, magnetism, and simple machines. The introduction includes a step-by-step guide on how to use the book and suggests that each lesson lasts 2 weeks. Each lesson is written directly to the student and is full of experiments for young scientist. At the end of each chapter there are 3 sections: Final Matters, What Do You Remember?, and Notebooking Activities. There are also more experiments at the end of each chapter. In the back of the book you will find an answer key, index, and a supply list for all the experiments divided up by lesson.
A password to the course website is also included in the book. The website includes resources that are listed in the text, but also contains additional links as well. There are links for the entire book and links listed for each chapter. Some of the resources are procedures, videos, interactive games, biographies, and more. There are cautions listed for videos that may present links to inappropriate videos.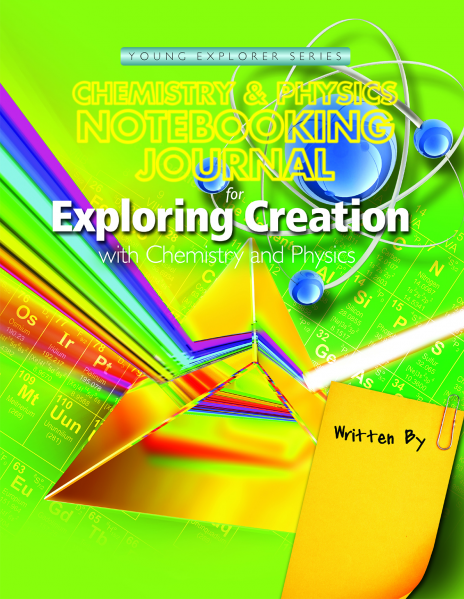 Exploring Creation with Chemistry and Physics Notebooking Journal
is a 206 page spiral bound notebook and can be purchased for $24.00. This notebook allows older elementary students to complete all the assignments from the book in one place plus providing more activities. Directions for the activities and a daily schedule are included to make school planning easy. There are pages to write & draw fascinating facts, journaling pages, copywork, crossword puzzles, project pages, end of chapter questions, mini flap books, and more. The only additional supplies needed for the notebook are scissors, glue, colored pencils, a stapler, and brads.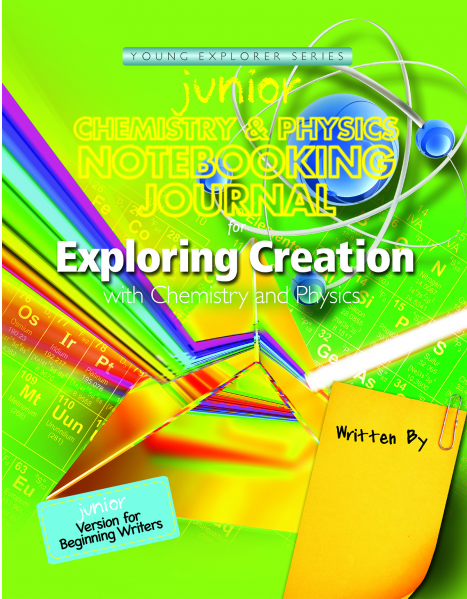 Exploring Creation with Chemistry and Physics Junior Notebooking Journal
is a 237 spiral bound notebook available for $24.00. The junior notebook is recommended for younger elementary and is set up like the regular journal except there is no end of lesson questions to answer, the puzzles are easier and coloring pages are included.
I have been using this homeschool science resource with all three of my girls ages 8, 11, & 12. I read the lesson out loud to all three of them and they would take notes on their Fascinating Facts pages. Throughout the lessons there are places to stop and have the student explain what they learned in their own words. I would have Alaina (age 8) tell me what she knew first, then Delaney (age 11) would go next, and Amber (age 12) would go last including things that her sisters forgot and then we worked on the experiments together. Then they would each finish up the activities in their notebooking journals.
Throughout the text everyday items are used to illustrate the information taught. Things are explained in a way that so they are easy to understand and remember from the very first chapter. Mass, matter, density, and volume aren't easy to remember, but even Alaina can remember what each one is because she can remember the items that were used to explain them. Amber is above the recommended grade level, but she has been giving more details in her notebooking journal & has learned a lot. I think the older elementary journal is perfect for Delaney and the Junior notebook is perfect for Alaina. The only complaint from the older girls is that they would like to have the coloring pages included in their notebook.
This experiment is my girls favorite so far. They were getting a little bored while they were waiting for something to happen.
We have used several science books from the Young Explorer Series and this one is our new favorite. Sail over to the
Crew Blog
to read what other members thought of it.