Delaney loves her American Girl Dolls. She doesn't play with them a lot, but she likes to dress them & set them up in her room. Some days she will dress them when she gets up & put their nightgowns on them before bed. Delaney is also a shopper & loves to pick out clothes for herself & her doll and that gets expensive. This past month she has been learning to sew by making her dolls some new clothes using
Rosie's Doll Clothes Patterns
.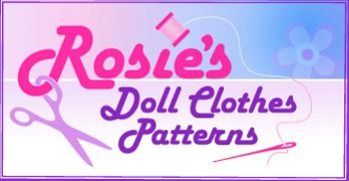 We received 12 months access to
Learn How to Make Doll Clothes Video Course with 8 Free Doll Clothes Patterns
from
Rosie's Doll Clothes Patterns
.
Rosie lives in Australia
so the price of the course can very every day according to the exchange rate, but today the
price is $47.46
. If you order before December 24, 2013 you will receive another
free doll clothes pattern
of your choice. You can receive the course three different ways. You can have instant access to the complete program all at once, the online course can be delivered over the course of 6 weeks & has a money back guarantee, or you may purchase them on DVD for $66.14. We received the entire online course at one time.
Delaney's first pair of Sport Shorts & Crop Top.
This course is recommended for children ages 8 and up. It comes with over 130 step-by-step instructional videos that will teach you to sew in just six weeks. We also received 8 free 18 inch American Girls doll clothes patterns that come with their own step-by-step tutorials. That gave us 218 online video tutorials. Wow, that is a lot. The videos teach everything starting with setting up your sewing room, we learned about equipment, elastic, fabric, how to create a casing, how to sew a curved hem, tips on ribbon and buttons, and so much more.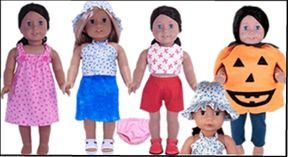 All the videos are live streamed on the website, so once you receive your password and login you have instant access to all the instructional videos. The first 6 weeks are learning to sew and then the Course Bonus Materials are the patterns for the 18" dolls. The doll patterns include a Sport Shorts, Crop Top, Long or Short Sarong, Halter Top, Summer Nightie, Hat, Underpants, and Pumpkin Costume.
This is a screen shot of our home page. Once we click on the bar at the left for our selected week a drop down menu appears to access each days tutorial video. When you are ready for the bonus material you will be instructed how to download and print your pattern pieces. The videos for the doll clothes are very detailed. We are shown the completed outfit, all materials and tools we will need, how to cut it out, and how to complete the clothing with a video for each step. The printed pattern also gives you a list of supplies that are needed & it makes shopping so easy.
I actually borrowed a sewing machine intending to use the sewing course with all three of my girls or at least Amber & Delaney. The machine we borrowed was having some issues and the lady we borrowed it from doesn't use it. That left us with just one sewing machine and since Delaney (age 11) likes her dolls & fashion more than the other two she decided she was going to use the program.
I watched the videos with Delaney & I learned a lot. I remember learning to sew in Home Ec. when I was in school and I just remember how boring it was. As an adult I have sewn quite a few things, but I usually cut my pieces out and sew them together. (Sh, I'm not one for following directions!) I learned of tools that make sewing so much easier like a looper, I never even knew they made such a thing.
Delaney loves her Mad Hatter costume and she wears it often, she decided it is the most appropriate thing she has to wear while she is sewing.
Delaney could not wait to get to the actual sewing for her dolls. We have watched the course material videos and she has completed the first 3 doll patterns. She could have gotten farther, but she actually made 2 sport shorts, 2 crop tops, and 1 sarong. She already has a couple more sarongs & a halter top cut out and ready to sew. The instructional videos are truly step-by-step. The videos are recorded from an angle that makes viewing the process very nice, its probably better than having someone teach because there is not wasted time going back and forth from instructor to sewing machine. The sound quality and volume is very consistent for ease of listening. We are shown exactly what to do for each step in the sewing. Delaney was able to watch and complete all of the instructions. The only thing I helped her with was the ironing. She knows how to use the iron, but it was faster if I did it because she went pretty slow with the small pieces.
Delaney didn't like how short the crop top was, so she decided to make a second one to go with her Sarong and she added a ruffle to the bottom of the shirt.
Learn How to Make Doll Clothes Video Course with 8 Free Doll Clothes Patterns is so much more than just sewing doll clothes. The course material that is taught is very detailed and can be used while sewing anything. Even if you have never used a sewing machine you can sew & make doll clothes while using this program.