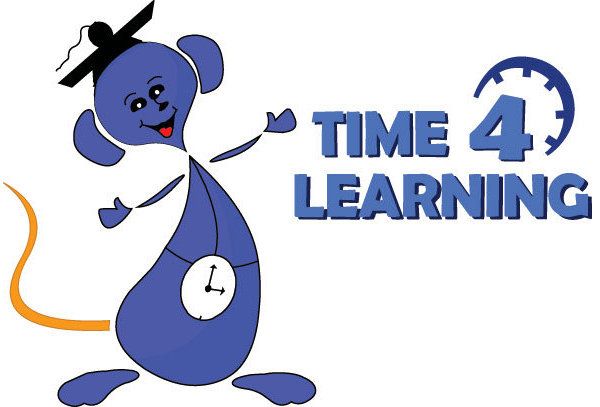 Time4Learning
is an educational website for students grades preK-12. It is a student-paced approach in Language Arts, Language Ext., Science, Math, & Social Studies making it a good option for kids who homeschool, public school, after school, or skill sharpening.
The Schoolhouse Review Crew received 6 months access to Time4Learning and I chose grade 4 to use with Alaina. PreK-8 is
$19.95 per month
for the first student and
$14.95
for each additional student. Each student will have access to the grade level above & below the one you choose that way if your child is stronger or weaker in one subject area they can move up or down while still learning at their grade level for the other subjects.
Once we signed up Alaina had her own login account to access the Time4Learning program & I had my login to access the Parent Admin Account. Alaina didn't have any trouble logging into her account and she could navigate the program completely on her own.
When Alaina logged in she had this screen where she could choose what she would like to work on. The 4th grade program has 154 activities for
Language Arts
, 168 activities for
Language Arts Extensions
,
356 Math
activities,
167 Science
activities, and
Social Studies contains 204
. If you click on the links above you can see the scope and sequence of each subject and there is a free
Daily Activity Worksheet
to help plan your child's work.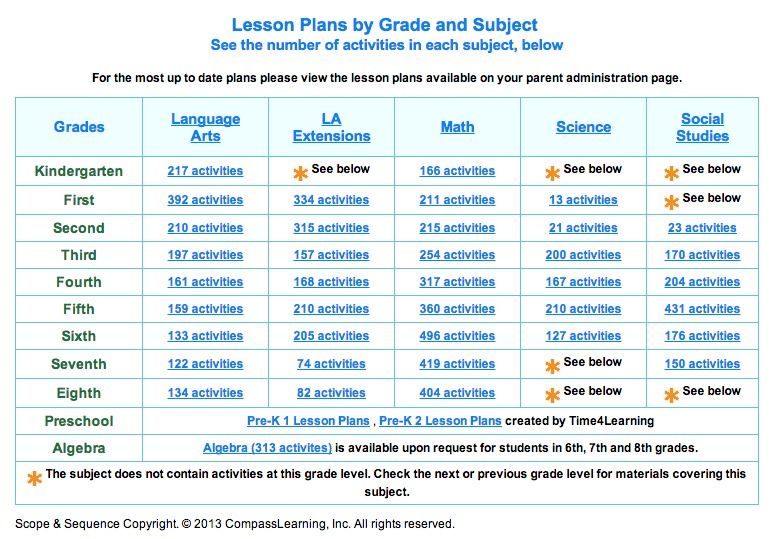 After Alaina chooses the subject she wants to work on she would get another screen that would show her the different lessons. Once she completed a section a green check mark with the word "Completed" appears across the lesson icon. An arrow will appear where she should begin her next lesson.
This lesson in Science is talking about Sound. There are 8 slides in this lesson that the child should read. Once they are finished reading the lesson there are a few questions to answer. There were two lessons in Sound and once you finish both of them there is a quiz to take. Some lessons have additional worksheets that can be printed. The student also has access to a toolbox for Math and Honors Algebra help.
In the Playground, kids have access to a variety of games & activities. There are puzzles, educational games, Arthur, Clifford the Big Red Dog, and more.
The word finds are very easy to use. The student just clicks on the letters for the word they have found and then it will also be highlighted in the word lists, so it is easy for the student to see what words have been found.
Alaina's favorite games are Arthur & Clifford the Big Red Dog. We had some fun educational games from both of these for the computer, but with the new operating systems they no longer work. Alaina was thrilled to have these games to play & I know they will always work regardless of what computer she is on.
After using Time4Learning for a month your student will then gain access to the Art section. It teaches several aspects of Art including color, portrait, movement, lines, eyes, value, and so much more. There is also an Art Gallery that shows a piece of art and tells us who, when, & where it was created. There is also a glossary of terms, and a portfolio to upload your students artwork.
In the parent administration section I can see how Alaina is doing on her work. I can look at her recent work for today, the week, or the month. I also have access to her assignments & reports. This is also where you can access worksheets & supplementary teaching guides with answers, and the comprehensive lesson descriptions.
In our homeschool all 3 of my girls study the same thing for everything except English & Math, so I had Alaina focus primarily on the Language Arts activities, but adding in the other subjects as well. She loves using Time4Learning and will even ask to login after school, and she asks to work on it first thing in the morning. The graphics are very appealing to kids, but I don't feel there is a lot of wasted time going between activities. I love that we have access to 3rd & 5th grade in addition to Alaina's 4th grade level, because some subjects just come easier for her than others & I don't feel she is wasting her time working through things she already knows & she doesn't get frustrated with things she isn't ready for.
This program is written from an evolution stand point & we believe in Creation. Alaina already knows what we believe and what others teach & we use this time to go over what the Bible teaches.
Time4Learning is a great addition to any child's education. It is flexible enough for every subject to be completed every day, for your child to brush up on skills, help a struggling learner, or just for fun.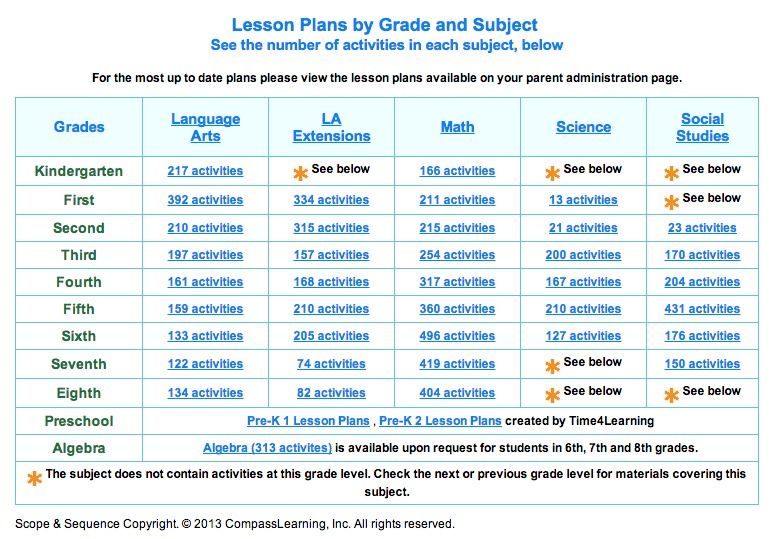 A
Personalized Demo
is available for your child's grade level & there are 99 more reviews on the Crew Blog for you to read and decide if
Time4Learning
is right for your child.