Several weeks ago we received
See It and Say It Flip Flop Spanish
from
Flip Flop Learning
. It is so easy to use that we started working on it as soon as we had it open. We actually opened the box then I read the manual for the first lesson and pulled out the correct flash cards and Amber had the audio CD lesson ready and we had our first lesson. It was sooo easy!!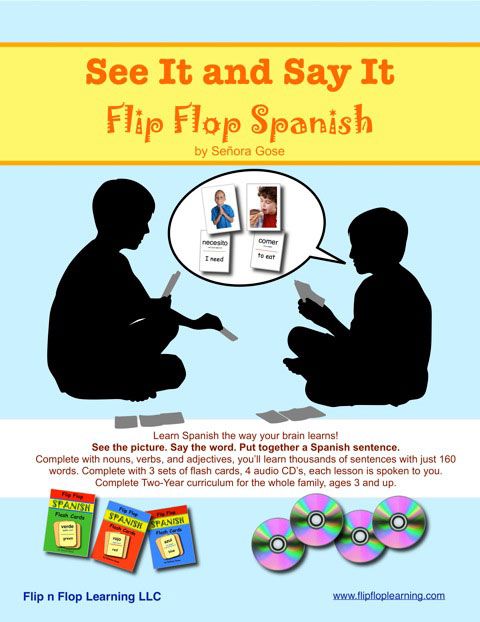 See It and Say It Flip Flop Spanish
is a 2 year curriculum that can be used with anyone ages 3-93. The retail price is $129.95, but you may purchase it right now for $99.00. It comes with a 150 page curriculum manual, 3 sets of flash cards, 4 CD's of audio lessons, 1 dry erase paddle & marker, and 2 flash card holders.
The Curriculum Manual was already 3 hole punched to place in a binder. There are 45 lessons with 3 days material for each lesson plus games and activities that can be used any day. About every 6th week there is a break week, so you can review your flashcards or just work on your new vocabulary. Throughout the book the mascot Egg Head will explain grammatical concepts. The activities include games, charades, skits, and optional writing elements.
Day 1 ~ Uses the CD

1. Read the manual.
2. Pick out the cards.
3. Push play and follow the instructions you hear.

Day 2 ~ You will work on your flash cards and arrange them into sentences and then repeat the same thing as Day 1.
Day 3 ~ You will repeat what you did on day 2, but you will not use the CD. You will interact with your child using Spanish, not just the CD.
My girls are bound and determined to learn to speak Spanish fluently, so they are even labeling things in our house.
Flip Flop Spanish is great addition to any home that wants to have fun while learning to speak Spanish.