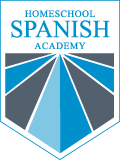 I love teaching my kids at home, but there are some classes that they can do so much better with someone else as their teacher. Spanish is one of those subjects & who better to teach my kids to speak Spanish than a native Spanish speaking person. Amber & Delaney have been taking online Spanish lessons from
Homeschool Spanish Academy
& they have their own native Spanish speaking instructor.
Homeschool Spanish Academy offers Spanish lessons for individuals or a pair of students close in academic level. The instructors are native Spanish speaking and lessons are conducted using the video calling program, Skype. They have programs for
Early Language
,
Middle School
,
High School
, and
Adults
.
Having Spanish lesson on Skype is just as good as having face to face lessons. Rosa has been a good friendly teacher and I am understanding most of what she says to me in Spanish.
~Amber, age 12
I like Homeschool Spanish because I can learn better by talking to someone, and it is like having my own private lesson. I am learning faster than if I was using a Spanish book because I am able to hear how the word is pronounced and I am corrected if I say it wrong.
~Delaney, age 11

I signed Amber (age 12) and Delaney (age 11) up for the
Middle School Program
. Last year we used the
Early Language program
and I thought they could handle middle school. During our first lesson our teacher asked the girls several questions about what they knew in Spanish to be sure they were ready for a harder level. She said they were ready & we proceeded.
To use Homeschool Spanish you will need a computer that can run Skype, a web cam, a microphone, and high speed internet. Skype is a free video calling program available online. We used the web cam and microphone that are already on our laptop, so we didn't need to purchase anything. All the home work is included so there is no additional cost for the program.
When we first login and click on My Classes it takes us to our main page. Here we can see our Home Page which contains links to "how to" videos for the program.
To schedule classes I click on our product with my girls names and it takes me to a list of all the teachers. I can then choose who we want to schedule our class with and it will show me what times the instructor has available. We started out scheduling one class at a time, but once the fall semester started our instructor was booking up fast, so I went in and scheduled all of our remaining classes at one time. Homeschool Spanish Academy is currently adding more instructors due to the high demand of their program.
Our scheduled classes show up in My Planner and I get an email from HSA when I scheduled a class and a reminder email 24 hours before my scheduled time. I can also cancel and reschedule a class that isn't going to work for us. I can also see how many more lessons my girls have that are already scheduled or that are remaining.
In the Middle School Program the girls were assigned homework. We have an Assignments tab where we have access to all of our homework. It shows us how many assignments have been completed and how many we still need to turn in.
When we started our classes the girls were excited to see Rosa, the teacher they had last year, was still giving lessons. They wanted to schedule all of their lessons with her. At the beginning of each lesson Rosa would review previously taught information. Then she would show them pictures of the new words and ask them questions about the pictures. She would also have the girls ask her questions. The lesson is spoken in all Spanish unless it is new instructions the girls haven't learned and Rosa would tell them in English. With two students they would each take turns answering or asking the questions.
We absolutely love Homeschool Spanish Academy!! Our instructor was very friendly and I really like how she keeps notes during my girls lessons. She must have kept our notes from last year too, either that or she has a great memory because she remember things about our family during the first lesson. It is so nice that each lesson is personalized. Rosa would use our family members names, places of birth, nationalities, favorite foods, and more with the Spanish words they were learning. The personalization of the program made it easier for my girls to remember the words and use them in their daily life.
The lessons for Middle School are 50 minutes long and the entire 50 minutes is used. Rosa was ready for our lesson right on time and either remembers a lot from the previous weeks or she reviews her notes before each lesson. My girls feel very comfortable having lessons using Homeschool Spanish Academy and Skype.
Homeschool Spanish Academy Middle School Program
is recommended for children age 12-15. It can be purchased in several different packages. A Half Semester is 7 lessons for 7 weeks and is $104.99 for individual lesson or a pair of students would be $154.99. You may schedule a free trial lesson to see if this program would work for you.
Members of the Schoolhouse Review Crew used different levels of
Homeschool Spanish Academy
and you can read their reviews on the
Crew Blog
.