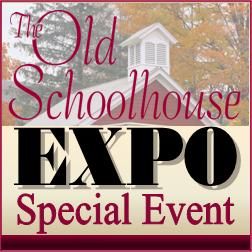 The Old Schoolhouse EXPO
August 19-23
5 Days of 30 Homeschool Speakers
$24.00
$17.00
1:00-8:00 p.m. EST
The EXPO is underway & I have been enjoying it as much as I can.
I listened to Hope Auer this afternoon, I was decorating a cake & the kids were working on Time for Fitness (they were trying to be quiet). When Hope was finished, Amber said she really enjoyed listening to her presentation & wanted to know who else was scheduled to speak.
You still have time to attend.
Tickets are reduced to $17.00!
You can listen as soon as you purchase your ticket and you'll have this evening to listen to Andy Harris and 2 days left. You get to enter the giveaways plus you will get the entire week recordings.