Alaina is a good reader and sometimes I forget she is only 8 & that she still likes to read pictures books. I started going through our books to get rid of some of our young books that no one reads any more & Alaina was not happy with me. She said she still likes her board books even though she can read chapter books.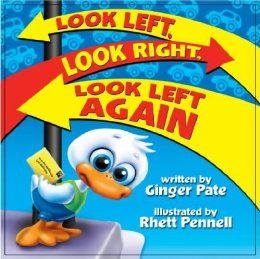 Look Left, Look Right, Look Left Again
is a 28 page board book. This 7" X 7" book is recommended for children ages 2-8 and can be purchased for $8.50. It was written by Ginger Pate and illustrated by Rhett Ransom Pennell.
Wally Waddlewater wants to write a letter to his grandmother. On his way to mail the letter he learns how to properly cross the street while obeying all the traffic signals. When he first starts out he only looks left & right. Mama Waddlewater grabs him just as he was about to step into moving traffic. Mama goes on to explain why Wally needs to look left, right, and left again. He also learns not to chase a ball into the street, when to wait at a traffic light & railroad tracks. After learning street safety Wally gets to cross the street by himself to visit his grandmother.
This little board book is so cute. It is very colorful & appealing to little eyes (and big ones). It explains crossing the street very clearly that younger kids can learn, but there are more words per page than what I would normally think of a board book as having. Alaina is 8 and she liked the board book, she read the book several times. I also used this opportunity to talk to her about crossing the street. We talked about how to cross the neighborhood streets and busy streets with stoplights. She already knew what was taught in the book, but when it comes to traffic safety review is good.

Greene Bark Press Inc., is a family owned publishing company that was established in 1991. They publish only books that are original, colorful, imaginative, and have value to add to the growth and learning process of young readers. They also offer games, puzzles, toys, and educational tools.