The Family Hope Center
helps children with special needs and developmental delays no matter how mild or profound. They believe every child is unique and they empower parents to heal their children. The Family Hope Center evaluates every child and trains the parents to be the child's in-home engineer. By helping parents understand how the brain grows and develops, the treatments will be effective no matter what caused the child's condition.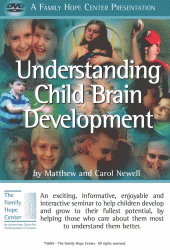 I received
Understanding Child Brain Development
by Matthew & Carol Newell. This is an interactive seminar to help children develop to their fullest potential by helping the parents understand their children better. This seminar is about 2 hours long and can be ordered through
Institute for Excellence in Writing for $19.00
.
A
free ebook
is a available to go along with Understanding Child Brain Development. The seminar can be viewed in 6 languages and includes these chapters:
Introduction by Andrew Pudewa
Matthew & Carol Newell, The Family Hope Center
Child Brain Development-Who's Really Driving
Why Do Brain Dysfunctions Still Exist?
The Family Hope Center
The Magnificent Brain
The Sense of Smell
Sense of Smells in Newborns
The Pons
The Mid-Brain: Creeping
The Cortex
Diagnosis/Treatment at The Family Hope Center
Physiology vs. Pathology
Integrated Therapy
Water and Its Effect on the Human Body
A large portion of the seminar focuses on the brain and how each section controls a specific behavior. Matthew goes over how certain parts of the brain develop with milestones achieved as early as the birth of the infant. They want to create wellness in everyone and the healing includes:
Understanding the children-and work together
Nutrition
Water
Food
Eliminating EMF's - microwaves, gameboys, computer games, videogames, TV
Sunshine.
I have watched the seminar several time and I'll admit some of it goes over my head. I find it very interesting how laying an infant on their stomach instead of their backs and how crawling can change how their brain develops and can affect the child later. I am very grateful that all of my children are "normal". Although Matthew teaches that everyone without a perfect brain can use wellness. All four of my girls scooted instead of crawling, so I have been trying to notice things in their development that this could have affected & haven't come up with any yet. If you are interested in how the brain develops or if you have a child that needs wellness you might find this seminar helpful.
I also received Stories of Family Hope DVD. This is stories from parents of children who have experienced victory.
Chapter 1 ADD/ADHD ~ 2 families tell their inspiring stories of hope and success after beginning their program. One family's child was labeled with ADD/OCD and the other with ADD/ADHD.
Chapter 2 Cerebral Palsy ~ 2 families talk about their journey of frustration to hope and the dramatic progress their children have made since attending the seminar and implementing a program.
Chapter 3 Down Syndrome ~ Hannah was diagnosed with down syndrome as an infant. She is now making progress toward leading a normal life.
Chapter 4 Autism ~ A documentary of 2 young boys that were diagnosed with Autism. Their parents tell how the boys' lives are dramatically improved by their experience.
The Family Hope Center believes that the parents can become the best engineer for their child because of their love for them & their determination to see them succeed. The success stories prove that their program has been very beneficial to families who face difficulties with their children.
Matthew & Carol Newell are the directors of the Family Hope Center and they have been helping special needs children and their families for over 25 years. Matthew deals primarily with children's physical development while Carol focuses on the sensory side. They have had numerous awards accredited to them over the years and have raised a special needs child.
To order
Understanding Child Brain Development
you can call 610-397-1737 or visit
Excellence In Writing
.