We are always on the lookout for a good series to read and awhile back we read several books from the
Circle C Beginnings
series by
Susan K. Marlow
. We just finished reading
Tunnel of Gold
which is the second book in her new
Goldtown Adventures
series.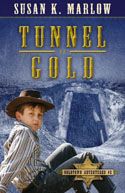 In Tunnel of Gold we get to experience life in a gold town through the eyes of 12 year old Jeremiah Coulter. He takes us on one adventure after another as he tries to decide what is good for Goldtown or what is really the right thing to do. The whole town of Goldtown is out of work when the Midas Mine runs out of gold. The owners discover there is more gold deeper down. In order to get to the gold an old abandoned mine that is worked by Jeremiah's friend Wu Shen & his Chinese family must be used as an air shaft. In order for this to happen the Chinese must give up their right to the abandoned mine. With the town against the Chinese Jeremiah's dad, the sheriff, must keep the law & order in the town. Jeremiah also tries to keep the peace between the town boys and his Chinese friend Wu Shen.
Tunnel of Gold
is the second book in the
Goldtown Adventures
series. This 144 page book is recommended for children ages 8-12. It can be purchased for $7.99 + $2.99 shipping and handling or the first two books can be purchased for $13.95 + $3.00 shipping and handling.
I read this book out loud to all three of my girls ages 8, 11, & 12 and my husband. We all really enjoyed this story & the girls would beg to read more each night. There was plenty of adventure and suspense with big decisions to be made. It is very refreshing to read a book where people decide to do the right thing instead what the majority of the people want or the wealthy people in the town want. I really like how young Jeremiah doesn't fall into peer pressure when the other town boys pick on & beat up his friend Wu Shen.
We also used the
free Study Guide
for Tunnel of Gold. This 25 page unit is full of questions, puzzles, graphs, a time line, & recipe. It covers vocabulary words, Transcontinental Railroad, creating brands, and comparing fool's gold with real gold. Susan put a lot of thought into this study guide to create a great unit of study on gold mining.
Susan K. Marlow
is the author of the Circle C Adventures and the Circle C Beginnings series. She has been writing stories since she was 10 years old. She enjoys visiting actual sites to help her write her historical adventure stories.
Crew member received the first 2 books in the Goldtown Adventure series, you can sail over to the
Crew Blog
to read other reviews.