In our technology driven age I think handwriting has taken a backseat. I know once my kids learn to type it is much faster for them to complete their writing assignments on the computer, but I still think reading and writing cursive is a must and penmanship can be beautiful if we want it to be. My oldest daughter has been keeping an art journal since she was little. She writes about what is going on in her life & then draws a picture of whatever is on her mind, or strikes her fancy at the moment. She actually writes on the computer and then she prints it out to copy in her journal. This way she doesn't feel rushed to get everything written at once. She has beautiful penmanship because of all her copy work. My younger girls keep a journal, but they haven't learned to take the same pride in their writing as Morgan does. When I first learned about the new copybook from
Classical Conversations
I knew I wanted this for my girls.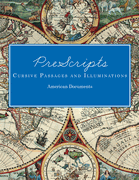 PreScripts Cursive Passages and Illuminations
is a 146 page spiral bound book available for
$12.99
. It contains 67 passages taken from great American documents and speeches dating from 1501-1987. Each passage includes an illumination that is the first letter of the document. This book can be used as a consumable workbook or a non-consumable resource for children in ages 9- high school.
There are four titles in the
PreScript series
with Passages and Illuminations being the forth. I had never heard the word prescript so I was glad to find the definition explained in the book. It comes from the Latin words
prae
meaning "before" or "in front of" and
scribere
which means "to write". So the PreScript series is designed to precede writing. Kids actually learn to write like they learn to speak by copying words on paper like they mimic words they hear. The drawing lessons included are to enhance fine motor skills.
Cursive Passages and Illuminations includes an illumination for each passage. Illumination comes from the Latin verb
illuminare
which means to "light up". In luxurious illuminated manuscripts artists would incorporate thin sheets of real gold or silver in their writings or drawings. When light hit the metallic page it would shine appearing to make its own light.
Delaney (age 11) has been working her way through this book. She likes to write in cursive, but she was a little intimidated with how small the words are written. Once I told her she could write on a separate sheet of paper she was actually excited to try this partly because she likes drawing the illuminations. She would draw her illumination first on plain white paper and sometimes she would start over a couple of times to get it just how she wanted it. She would then cut out her letter and tape it to her lined paper before adding her script.
We have been studying United State history and the passages in this book make a great addition to our studies. I love that Classical Conversations has added the illuminations because they inspired Delaney to take her time and try her best on her writing. The selected passages are all good, wholesome words to dwell on while copying.
Classical Conversations
wants to empower and support homeschool families by creating communities where they can connect with one another. They want to equip parents and students with classical tools of learning to discover God's creation and to inspire others to do the same.
Crew members received all 4 of the new PreScript series, sail over to the
Crew Blog
to read about them all.