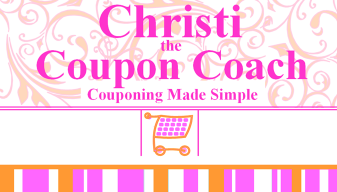 I am always looking for a good deal & when I go to certain stores I have my coupon or phone app ready before I ever get there. I just finished reading
Couponing Made Simple
to fuel my love of finding a deal.
Couponing Made Simple is a 64 page softcover book available for $18.00 and the ebook is $4.99.
Christi the Coupon Coach
teaches us how to save money by using coupons for most of our purchases. This book is divided into 10 chapters:
Chapter 1 ~ Success Stories
Chapter 2 ~ A New Way to Shop
Chapter 3 ~ The Language of Couponing
Chapter 4 ~ Organization System
Chapter 5 ~ Step-by-Step Process
Chapter 6 ~ Tips & Tools
Chapter 7 ~ Couponing Ethics
Chapter 8 ~ Networking & Communicating
Chapter 9 ~ Bonus Section
Chapter 10 ~ Beyond Couponing
Christi is not an extreme couponer, she is a busy mom just like the rest of us. In her book she teaches how to spend your money wisely as simple as possible without spending too much extra time. If you have access to several newspapers with coupons it may take a little time at first to get organized and get in the hang of couponing, but once you get the hang of her system it is very quick and simple to continue. The success stories she shares are phenomenal, but not impossible to obtain.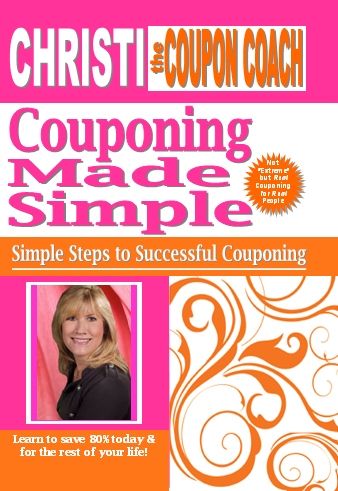 The book is very easy to understand and to implement even if your selections are limited. I live in a small town with only a couple grocery stores and no coupon section in our local paper. Since I do not have access to coupons in our paper I didn't implement the large Organization System. I just searched online for coupons and looked for the ones available at the store and stored them in a small portable file folder.
A Walgreens just opened in the last couple of years and they are very good place to use coupons. After reading Couponing Made Simple I headed to Walgreens. My girls were heading to youth camp and one of them needed deodorant and they wanted some gum. We eat mostly home made items for breakfast, so my girls really like when I buy them cereal. Walgreens had cereal on sale, plus I had a coupon, and I received a store rewards credit. I actually made 2 purchases that day. I bought 2 boxes of cereal, 4 deodorants, and 3 packages of gum. Then when I received my store rewards I had an additional coupon for cereal we bought 3 more boxes. My girls love the popcorn shirts & Walgreens has a good deal on them when they have them, so I grabbed 2 of them also.
I spent $26.26.
I saved $29.63.
That is a 53.5% savings.
I think I did pretty good for my first time & $10.00 was spent on the girls shirts.
Christi is a wife and mother of 4 kids who wants to be a good steward of God's money. At one time she thought she was doing good by purchasing the generic brands, but then realized she could save more buying name brand items. Shopping is now an adventure and a game for Christi and her pantry is full for her family.
Couponing does work & Christi the Coupon Coach explains her saving tips very well. The success stories are tremendous and I will continue using as many coupons as I possible can.
Thank You Christi for your knowledge of saving money.