Memoria Press
is a family run publishing company founded in 1994. They produce simple, easy-to-use classical Christian education materials for home and private schools. They are currently developing and testing a K-12 classical curriculum at Highlands Latin School in Louisville, Kentucky.
We had the pleasure of receiving
Prima Latina
to review. This Latin program is an introduction to Christian Latin for grades 2-4. The complete kit can be purchased for $90.90 and contains a Teacher Manual, Student Book, Instructional DVD Set, Flashcards, and a CD containing Pronunciation Guide, Songs, & Prayers.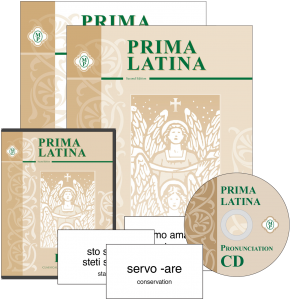 Prima Latina Student Book is a 132 softcover workbook that can be purchased for $14.00. This book is divided into 25 lessons (
free sample
) with a review lesson after every 5 lessons. Each lesson contains 5 vocabulary words with their English derivatives, a Latin phrase, and one line of a prayer that is completely learned after 5 lessons. The appendix contains all the vocabulary words, and Latin phrases learned. There are 7 Student Goals for Prima Latina:
Learn alphabet and pronunciation of vowels and consonant sounds.
Pronounce, spell, and translate 125 Latin words.
Learn 25 practical Latin expressions & 4 prayers.
Learn numbers 1-10.
Learn names of popular constellations.
Understand concept of English words derived from Latin.
Grammar
The Teacher Manual is a 137 page softcover book (
free sample
) and can be purchased for $14.00. This book is exactly like the student book except it contains all the answers, Teaching Guidelines, Vocabulary Worksheet, Tests & Keys.
The Instructional DVD Set contains 9 hours of instruction on 3 DVDs and can be purchased alone for $45.00. Leigh Lowe is the author of Prima Latina and she also teaches the lessons on the DVDs. She explains each concept along the way.
The Pronunciation CD contains 36 tracks and can be purchased for $4.95. Leigh Lowe pronounces each sound or word that is taught on the DVDs.
Prima Latina Flashcards can be purchased for $14.95. Vocabulary with derivatives, Latin sayings, and Conjunction & Declensions are included.
Each lesson contains 5 parts: the Lesson, Vocabulary and Grammar Forms, Practical Latin, and Latin Prayers. It is recommended that the student read the information in the workbook for each lesson, watch the lesson on the DVD, and then complete the workbook.
Prima Latina is very easy to use. There is no teacher prep other than putting the DVD and handing the workbook to your student. Aliana, age 8, is using this curriculum and it is going well. She said she doesn't like Latin, but she is retaining the information. Leigh Lowe teaches the lessons in a way that she can understand what is going on. I really like that during the lesson you can see Leigh, but you can also see the words on the screen that she is introducing. She speaks and pronounces each word very clearly on the DVD & CD, so that Alaina could understand how each word should sound. The workbook is printed in black and green and looks nice & clean. There is not an excessive amount writing and the spaces are big enough for Alaina to fit her complete answers.
Half of all English words are from the Latin language, and Prima Latina is a good, easy to use beginning Latin curriculum. It is written for teacher's who have no Latin background, and it will get your child ready for the
Latina Christiana
series from
Memoria Press
.
Members of the Schoolhouse Review Crew also reviewed
Geography I
you can read those reviews on the Crew Blog.