My kids love to be on the computer and they pick up things on it very fast. Delaney just finished using
Let's Make a Webpage
from
Motherboard Books
and she was very pleased with her results.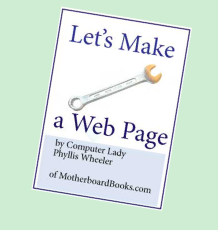 Let's Make a Webpage is a 60 page e-book for ages 8 and up. It can be purchased from Motherboard Books for
$19.95
.
I had Delaney use this e-book and she is 11. It was very easy for her to follow along and complete her page. There were only a few places that she wanted my help, and she finished it in one afternoon.
The instructions have you use CoffeeCup to create the webpage, and you can download this and use it free for 30 days. There 10 lessons that introduce your child to making web pages. The instructions teach you to build a webpage and use it on your own computer as a home page.
Lesson 1 has the student complete an interview to use on the webpage. Instructions for downloading the CoffeeCup Site Designer is given step-by-step with screen shots to help the student know what to look for on their own computer or what they should be seeing. Adding text, color, photos, background textures, sound, and adding links are all covered in this book.
Delaney chose to interview her brother who is currently stationed in Afghanistan. She thought of some questions to ask him for her interview. She added her text and then found a picture of the two of them that was taken a couple of years ago when he just graduated from basic training to use. She liked her photo so much that she decided to use it as a back ground and add her text to it. She was able to resize and position her text to look nice on top of her picture.
I think this is a very well written curriculum for beginners. The e-book was very easy to download to our computer & then we sent it to our Kindle Fire. Using our Kindle for this book worked out great because Delaney could easily see the instructions & the e-book. I love that the screen shots were included in the text, this left no doubt in Delaney's mind of what she was looking for. She had so much fun with this curriculum that she is wanting to start her own blog now.
Motherboard Books was created by
Phyllis Wheeler
because she was worried about her own homeschool kids falling behind in computer skills. She is a Mechanical Engineer who has taken many programming courses over the years and decided to offer a class to homeschool children. She then decided to record what she was teaching to create computer curriculum.
Let's Make a Web Page makes building a web page easy for kids. Motherboard books also provides Logo Adventures which helps kids 8-12 with MicroWorlds programming. There is also a
Free Internet Scavenger Hunt
for your kids to enjoy.
Members of the Schoolhouse review Crew also received Logo Adventures, sail on over to read what they thought about it.