Not only do I teach my own kids at home, I also teach Sunday School. The ladies in our church take turns teaching a class for 3 months at a time. I usually teach several classes of different aged kids throughout the year, and I am also in charge of crafts for VBS every summer. I am always on the lookout for different activities & craft ideas for my classes. I just discovered
Christianity Cove
when I received
Make & Take Bible Crafts
and
Bible Memory Games
to review.
Christianity Cove offers free or inexpensive lessons, games, crafts, skits, and activities for Sunday School or Children's Church. They believe you don't have to spend a lot of money on Children's Ministry to get the point across.
Make & Take Bible Crafts
is a 144 page e-book for $29.99. There are 47 crafts taught in this book that take 20 minutes from start to finish. There are 20 crafts from the Old Testament, 20 crafts for the New Testament, and 7 crafts for Christian Virtues. All the craft ideas are inexpensive and use every day items, that you probably already have around the house. The easy to follow instructions require no special craft talent. Scripture verses and stories are included, so everything you need is in one place.
The Make and Take Bible Crafts e-book is set up very nice, there is a picture for each craft, then a list of materials needed and the scripture that goes with the craft. The craft preparation and directions are the final thing for each one. Some of the crafts are easier for younger children and there are some that can be used for older elementary.
I haven't taught Sunday School during this review, but I used some craft projects with my daughter age 8. I let her go through and pick out which crafts she wanted to work complete.
Alaina (age 8) said she liked all the ones she made, but her favorite craft was for Samson. She used a piece of cardstock to draw Samson & Delilah then she used a hole punch above Samson's head so that she could pull his hair back and make it shorter.
Bible Memory Games
is a 166 page e-book that can be purchased for $29.00. There are 42 activities to aid in scripture memory. The scriptures learned are broken down into categories with 6 verses in each category. The themes include Salvation, Love, Good Behavior, Heaven, Faith, Faith over Fear, and Seeking God. The verses can be learned by category or individually. Each scripture uses 2 visual games, 2 audible games, and 2 hands on games for different learning styles.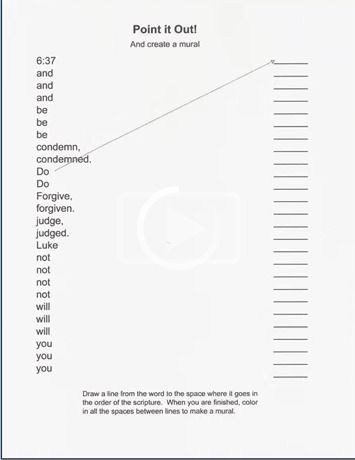 There are worksheets, clapping games, creating songs, memory games, treasure hunts, and more included in the Bible Memory Game e-book. The wide variety of activities could easily be repeated over and over using any bible verse that you want to memorize. I will be using these ideas the next time I teach Sunday School, and I continue using them with my girls (ages 8, 11, & 12) now. There are some games that will be more easily used for younger children and there are some that could be used with anyone wanting to memorize scripture. My girls favorite is creating songs, it is much easier for them to memorize if we learn the verses with a rhythm and then we can work on them any time and any where.
Christianity Cove has a lot to offer that can be used for Sunday School or bible time at home. The Schoolhouse Review Crew had several different title to review, so sail over to the Crew Blog to read about those.