We have been using
Spanish for You!
, a Spanish curriculum for children in grades 3-8. This Spanish curriculum lasts a full school year & the students learn Spanish by studying the same theme all year. We have been learning Spanish using
Fiestas
(celebrations), and other crew members are using
Estaciones
(seasons).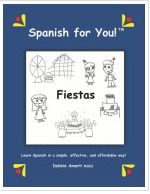 We received
Spanish for You! Fiestas
as a download that included:
Spanish for You! Fiestas e-book
Spanish for You! Fiestas Audio MP3
Fiestas Flashcard Pictures
Fiestas Worksheets
Fiestas Lesson Guide Grades 3-4
Fiestas Lesson Guide Grades 5-6
Fiestas Lesson Guide Grades 7-8
The Spanish for You! Fiesta book contains a reference section that covers the alphabet, common words and phrases, command, colors and numbers, games and activities and information about the fiestas. The five lessons teach vocabulary, verbs, and grammar for each fiesta:
Spanish for You! Fiesta and Esaciones
for grade 3-8 can be purchased for $64.95. If you don't need all the grade levels you may purchase 3-4 grade, 5-6 grade, or 7-8 grade separatly for $39.95. The Teacher Lesson Plans are sold seperatly with grades 3-4 being $14.95, grades 5-6 and grades 7-8 are each $12.95.
A trial version of (Travels) is currently available with the full curriculum being available in June. You may also access
free curriculum activities and games
,
free additional worksheets

,
and
free mini lessons
from Spanish for You!
It makes no difference which theme you start with, but it is recommended to do the lessons in order.