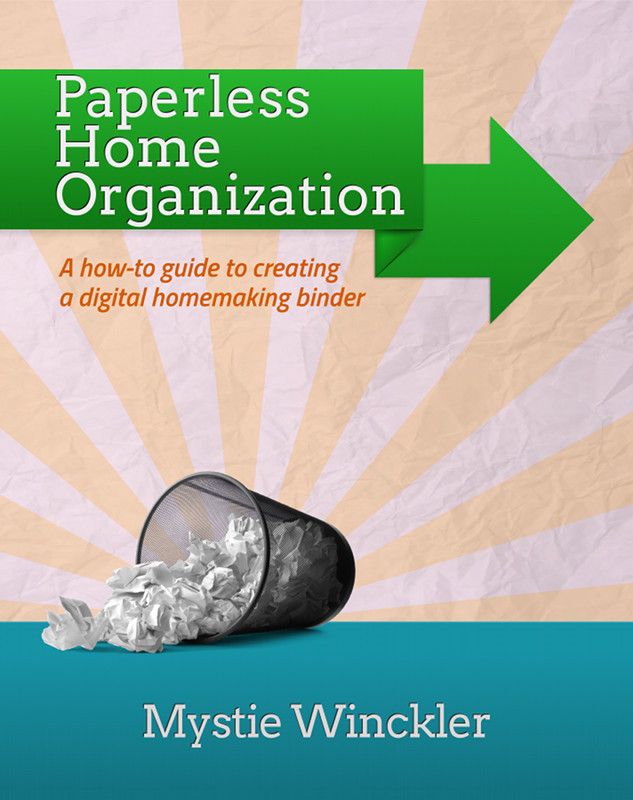 I have never kept a paper organizer. I have always used a calendar to keep track of things and multiple lists on index cards so I wouldn't forget things for each day. Then I upgraded to a smart phone and started adding all our activities and lists to it. By using Paperless Home Organization I have learned to make things work together.
Paperless Home Organization
(
free sample
) is an 75 page e-book available in PDF or Kindle formats for only $3.99. Mystie Winckler shares how easy it is to get you life organized by using your smart phone, tablet, and computer. Mystie tells us about FREE apps that offer the biggest benefit and how we can use them together. Even though I already had most of the apps on my iPhone there were several of them that I wasn't using because I just hadn't taken the time to figure them out. I was putting info into my calendar and making lists in my Notes app, now I know how to use the apps I have to my advantage.
Mystie has also written a couple of cookbooks,

Simplified Dinners: easy, flexible, frugal whole foods cooking

and

Simplified Dinners: easy, flexible, frugal allergy-free cooking

. We do not have any food allergies in our house, but we tried some recipes from the allergy-free cookbook and my family liked them just as well as the regular cookbook. The best thing about these cookbooks are how they are set up. If you are new to cooking or aren't very good at improvising in the kitchen these cookbooks could help you tremendously.
The primary purpose of the recipes is not necessarily to give you a recipe to follow exactly, but to remind you how things can be prepared step-by-step. Measurements are not always given in exact amounts, so that you can learn by tasting how much of each ingredient to add to suit your family. Both cookbooks start out with a Master Pantry List. This list a good variety of products that will help in making so many wonderful dishes and can make shopping quick and easy. Plus it is easier to prepare meals when you have everything on hand.
Each recipe is set up the same way. At the top of the page is the item (Marinades, Slow-Cooker Roasts, Slow-Cooker Chicken, Bean Pots, etc.) with the cooking process/processes listed step-by-step. Then underneath that are the variations of the recipe. Every other variation is yellow to make it very easy to glance at the page and know which one you are making.
Simplified Dinners: easy, flexible, frugal whole foods cooking
is a 30 page e-book (
free sample
) for $12.99. It contains recipes for variety of dishes with several variations for each one. My families favorite recipe from this book so far is the Fast Artisan Bread. This bread says it will take 1 1/2 from start to finish. I doubled the recipe and made a long loaf and a flat bread with it. On the flat bread we spread olive oil on it and added Italian seasoning before baking and then parmesan cheese when it was done. My family loved it both ways, the loaf was nice and soft on the inside and perfectly crispy on the outside. We will be using this recipe for years to come.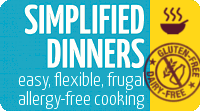 Simplified Dinners: easy, flexible, frugal allergy-free cooking
is a 33 page e-book available for $12.95. This book contains the same introduction as the original Simplified Dinners plus an introduction to the gluten & dairy free edition. There is also a list of ingredients that could possibly contain gluten or dairy that you wouldn't recognize just from their name. My families favorite from this cookbook so far is Easy Black Beans from the Bean Pots. I actually put in everything that is listed and we all enjoyed it.
If you have trouble coming up with easy dinners for your family or need to get yourself organized Simplified Pantry could benefit you. Sail over to the Crew Blog to read what other crew members thought of these books.