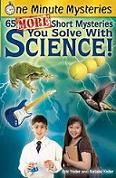 Every night before bed I read aloud to my family. Sometimes I pick our read aloud and other times the girls will pick. Recently we added
One Minute Mysteries: 65 More Short Mysteries You Solve With Science!
My original plan was to read a couple mysteries a night, but we have had so much fun with this book everyone would beg for just one more and one more and one more.
One Minute Mysteries: 65 More Short Mysteries You Solve With Science!
is from
Science Naturally!
It is the third book of One Minute Mysteries and is recommended for ages 8-12. This 180 page softcover book can be purchased for $9.95. It was written by father and daughter Eric Yoder and Natalie Yoder
There are 65 one minute science mysteries written on one page with the solution to the mystery on the back. These mysteries are more than just science & mystery they also take some critical thinking to figure out the answers. I read the mysteries to my girls (age 8, 10, & 12) and my husband when he was home, but my girls didn't think I was reading them fast enough and they would read some on their own. It took us a couple of mysteries to get into the flow of how they worked. We thought some of the mysteries were easier than others, but we learned more from the mysteries we couldn't solve. My girls even made their dad try and answer the ones they didn't know. The mysteries are divided into Life Science, Earth and Space Science, Physical and Chemical Science, General Science, and a bonus section containing Math Mysteries. My girls thought the Life Science Mysteries were the easiest.
Science Naturally is an independent press committed to science and math literacy. Their materials are designed to help readers gain a better understanding of how science and math effect every day life. All of their titles have earned the NSTA Recommends from the National Science Teachers' Association and their math books have all been endorsed by the National Council of Teachers of Mathematics .
I have a coupon code to purchase any 3 books for just $19.95 plus $2.95 shipping. Just use 3SPEC when you check out.