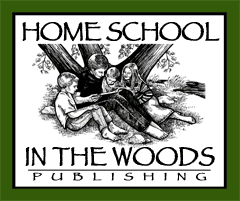 I'm guessing if I asked my girls what their favorite subject in school is they would answer music. They are always wanting to play their instruments and they already have some favorite composers that they get excited about when they play their music.
We just completed a
Hands-On History Activity-Pak about Composers
from
Home School in the Woods
and Amber said it is her favorite lap book she has ever completed.
I would have to agree with her, it is beautiful when it is finished.
Hands-On History Activity-Pak Composers
is recommended for students in the 3rd-8th grades and can be purchased for $18.95 as a download or $19.95 for the CD. We received the download version and it was a very smooth process. Once our files were downloaded there was one file that was titled "Start". Once you click on that it brings up a page that looks like a web browser but is really all your files. You do not need internet access once the files are downloaded onto your computer.
The file was very easy to use. At the top of the page are 4 choices:
Introduction~Here you will be introduced to what is included in your lap book. For the Composers there are 6 projects included in the lap book and then 2 additional project.
References~There are books, audio, and video selections included here to go with the subject.
Assembly~Step-by-step instructions with actual photos make it easy to fold the file folder and assemble the lap book.
Photo Gallery~ In this section there are photos of each smaller project so that you can see exactly what you will have when you are finished.

After the introduction there are files with the Assembling Masters, Individual Project Directions, and Masters, the MP3 recordings, and the two additional project masters.
I started at the top and went through and printed all the pages we needed to complete the entire lap book at once. The instructions for printing each section were very clear. The supply list for each project lists how many of each page you need, if it needs to be printed on the front & the back of the pages, if you need it printed on card stock, or if it needs to be on colored paper. The assembly instructions are listed in numbered steps with pictures. The Composers Project includes items that are glued directly into the lap book folder, pockets that are glued inside, and small projects and worksheets that are stored inside of the pockets.
Some of the projects that we completed are vocabulary words on piano keys with the definitions underneath the key, and little booklet for 42 composers that we filled in with some information about them, a timeline covering 7 Periods of Music from the Middle Ages to 1900s, and little projects that included booklets about patriotic songs, the opera, hymns, and soundtracks. There are 29 audio files of composers throughout history that we listened to & filled in a worksheet about each one and there is a pocket inside our lap book to store all the worksheets.
The two additional projects that we completed was an orchestra stage, and composer cards. The orchestra floor is glued into our file folder and we glued in little pockets to slide in the instrument card. There are 4 different orchestra cards from different Musical Periods with the seating arrangement on the back, so the student can rearrange their orchestra to fit the era. The composer cards have a picture of the composer on the front with the back telling us when & where they were born, when they died, what music period they were from and some of their compositions.
I used this Homeschool in the Woods
Hands-On History-Pak Composers
with all three of my girls ages 8, 10, & 12. We took several days to cut & glue our lap books together and then we went back and learned about each composer. While we were cutting and gluing we listened to some of the audio files & even listened to other composers we found on the Internet as we glued them to our timeline. Once we finished putting everything together we went back to listen to the audio files and fill out the music appreciation worksheets with each one. There are only 29 audio files included in this History-Pak so when we were filling in our composer booklets & gluing our timeline we searched to Internet to hear the other composers or more music from some of our favorites.
We have studied composers in our history studies or when the girls like a composer from their piano music, but we have never studied them all together. I really liked learning about them this way because it was very interesting to hear how music has changed throughout the years. I think learning about each composer while listening to their compositions & placing them in their correct place in the timeline makes it easier to remember them & some of what they composed. We wanted to complete our lap book before our review was due, but you could easily spread this out over a semester or a whole year. We are going to continue learning about the composers until we have studied them all more in depth.
My girls had a good time completing this lap book. They loved listening to the music and were excited when they recognized music they had learned in piano lessons. Once they finished their Orchestra project they changed their seating chart for each Musical Period so many times I lost count. Amber loved learning about the composers so much that she decided she is going to further her study of each one.
Home School in the Woods
was started by the Pak family. Amy Pak is the mom and she wanted to really bring history alive for her kids and started using timelines. She had a hard time finding images that she liked, so she decided to create her own. She started giving away some unit studies on her website in 1998 and in 2002 she began creating her timeline figures.
I own the
History Through the Ages A Collection of Historical Timeline Figures Creation to 21st Century
from Home School in the Woods and we absolutely love all the images that are included on this CD.
"This is by far my favorite lap book I have ever completed and I want to keep it forever to use as a reference in the future."
~Amber, age 12
As you can tell by the pictures this activity pak is a lot of work, but it is worth it. Your 3rd-8th grade child will end up remembering the composers and have a beautiful book that they will want to keep.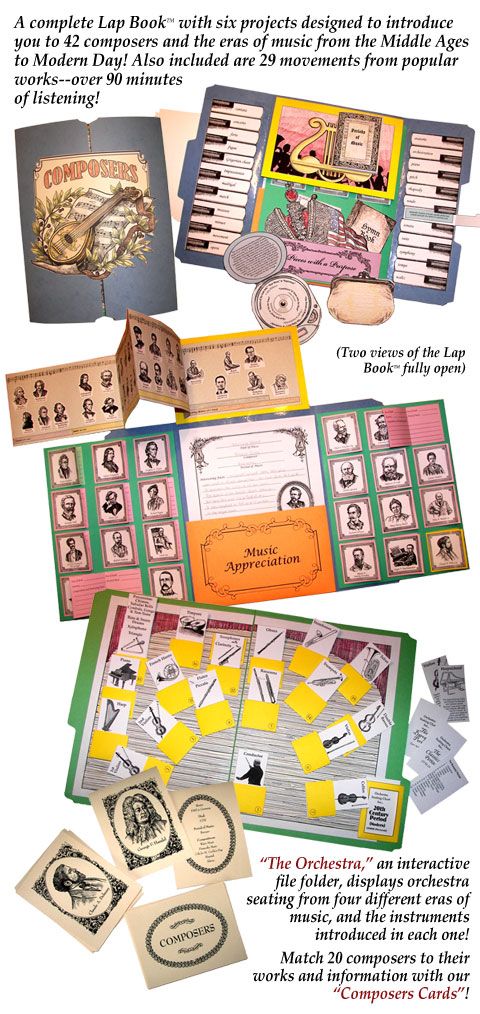 Some of the members of the SchoolHouse Review Crew received
Great Empires Activity Study
and
The 20th Century Hands-On History Lap-Pak
. Sail on over to the
Crew Blog
to read about those.