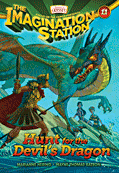 I like when we find a series of books that my girls love to read. The only problem with reading a new series is waiting for the next book to come out. We started the Imagination Station Series when they first came out & my girls eagerly await each new one. Book #11
Hunt for the Devil's Dragon
will be out in May and the day we got ours in the mail Amber had to read it right then. Even though this series is below Amber & Delaney's reading level they still love to read them.
In
Hunt for the Devil's Dragon
we head to Libya in the 13th century. Cousins Patrick and Beth head to a Silene where a vicious animal has been killing the local sheep. Some of the men think they need to offer a human sacrifice to the appease the dragon. While Beth tries to help the girl who is going to be offered to the beast she also gets left outside the Dragon's lair. Meanwhile Patrick and his new friend get help from a Roman knight to slay the dragon. Their plans change when Beth convinces them not to kill the dragon & she reveals the real sheep killer.
a Rafflecopter giveaway
Disclaimer: I received Hunt for the Devil's Dragon from Tyndale House Publishers free of charge in exchange for my review. No other compensation was received and all opinions are my own.