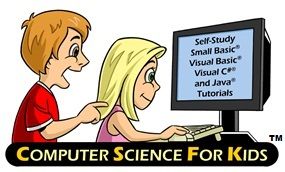 In this day and age everything is ran by a computer. I'm sure that will continue into the future & more than likely my kids will have to use them in their career fields. For the past month Amber has been learning about more than using a computer she has been learning how to create programs with
Beginning Microsoft Small Basic programming tutorial
from
Computer Science For Kids
.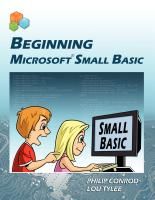 When the Schoolhouse Review Crew receives items that come as a download we are told what day the vendor should email the product. The day we were suppose to receive our Microsoft Small Basic Amber could not wait. As soon as she got up she wanted to know if I had checked my email. It wasn't there & she was not very patient that day. About every 30 minutes or so she wanted to check my email again. It finally arrived & I started the download. Once it was finished I was in the middle of helping one of the younger girls with their math. I told Amber that I would look at it that evening & she could start it the next day. She was so excited that she asked if she could try and figure it out on her own. She pulled up the Small Basic program & the PDF containing the instructions and got to work right away. I'm not sure how long she worked on this every day, but I never had to remind her about it. She had a blast & every little bit she would holler at everyone to see what she had done.
Beginning Microsoft Small Basic programing tutorial teaches very basic programming and is written for children ages 10 and up or adults who have never tried their hand at computer programming. It is divided into 11 chapters (
sample chapter
) and is self-paced. The
Table of Contents
will show you that although it is for a beginner it contains a lot of information in the 500 pages. Amber started out creating easy things like having her name appear on the screen & adding numbers. She even made a program where she could draw with the mouse. Of course we all had to try it & it wasn't that easy.
Amber didn't even give me the chance to print the PDF file for her, she just brought up read it on the computer and put them side by side whenever she needed to.
The directions were very easy for her to understand. The only time she needed any help was when she had made a mistake in her typing and couldn't find it. If you have worked with computer programing at all you know that a typo can cause the program to have an error. As she progressed through the program she would save her work in a folder so that she could go back to them whenever she wanted to. The appendix contains codes for a lot of colors so while Amber worked through the program she could change her display to just about any color.
Amber loves working with the small basic program and she is already asking for more. This is a great program for a beginner programer. It was easy enough for her to use & she was very excited with the results of her work.
The Beginning Small Basic turtorial is available as a digital e-book for
$59.99
. It will be on sale for
$34.95
until July 4th, 2013. This program requires XP-SP2, Vista, or Windows 7 to work.