If my girls had their way they would read & play their musical instruments all day. They all three play the piano & ukulele, Delaney also plays the saxophone & Amber plays the flute & just started guitar. Last month we added a keyboard to use with
MusIQ Homeschool
from
Adventus
.
MusIQ Homeschool
program is multi-level piano & music lessons used with a midi keyboard. This is a seven year curriculum that contains 20+ levels of instruction for beginners to intermediate piano students. It is recommended for children ages 4-18. It can be purchased as a
computer software
or a
monthly subscription for $10.95
. You will need a midi compatible keyboard with either one.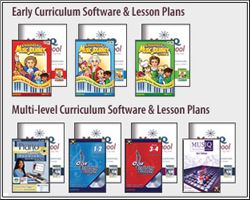 We received access to all levels, and this is what you would receive with the monthly subscription.
It is suggested that you sit with your child at the beginning and then let them work on their own making sure to listen to them once a week.
All of my girls are currently taking piano lessons. I had Amber (age 12) work on the Ear Training Coach, Delaney (age 10) worked in the Piano Suite Premier, and Alaina (age 7) used the program the most in Children's Music Journey Year 3.
When Alaina logged in she would go to her lesson that is taught by Beethoven. Once she completes the lesson she can practice with Mrs. Melody. After her practice session she can play some games & visit the library.
During her lesson with Beethoven he will show & play for her different rhythms and notes, and she has to play them back. She has to repeat the exercise until she gets it correct. When she makes a mistake she is told to be careful. Beethoven will even have her work on her own piece of music that she composed in Mrs. Melody's classroom from a previous lesson.
After the lesson with Beethoven Alaina would visit Mrs. Melody where she practices what was just taught & she can make up her own songs. We attended the Omaha Symphony when they came to town last week & when Alaina got to lesson #65 she recognized the music of Felix Mendelssohn right away. She couldn't remember his last name, but she recognized the music & she remembered his first name immediately.
After the lesson & practice Alaina had access to games, a library of music, and a room to play her own songs.
The biggest benefit from this program for Alaina is her timing. She has to hit the note exactly when she is suppose to & hold it down for its full count or the note will be highlighted & she will be told to be careful. This was frustrating to her at first, but it has improved the timing of her playing.
Delaney worked on the Piano Suite Premier. When she logged on she could choose between Piano Player, Theory Thinker, Composer's Corner, History Happens, or play Games. Her favorite part was the Composer's Corner where she could compose her own music. When she visits the Theory Thinker she could choose what lesson she wanted to work on. She did not work straight through the lessons, she chose the topics that she needed to improve. In History Happens she could learn about Composers & their music. In the Piano Player Delaney could choose a song from her level of difficulty to practice playing. When playing songs the notes are green if they are played correctly or red if they are incorrect.
Amber worked on her Ear Training. She had the choice of working on Rhythms, Melody Playback, Sight Reading, Intervalo, and Games. In the sight reading she had the choice of rhythms or melodies. She has been taking piano lessons for about six years & for the past 3 years her teacher has been having her play songs by ear, so really she just used the keyboard to play music or create her own songs.
We really like the Composer's Corner & the History. All three of my girls would look up composers they are interested in the Composer's Corner.
I think this program is wonderful & I really wish we would have had it six years ago when Amber started taking lessons. I feel this is a very well rounded program & could have saved us a lot of money on lessons for 3 girls over the years.
Who would have thought you could get piano lessons for all of your children for $10.95 a month.