The first year we homeschooled I bought a complete packaged curriculum because I was afraid I would miss something when it came to teaching my kids. Michael did fine, then I started Morgan on the same curriculum. She did great with all of it except the Math. She struggled! I talked to other homeschool moms & they recommended what worked for their family. Well, it still didn't work. After starting her over & switching several times someone finally suggested Math-U-See. I ordered it thinking it probably wouldn't be any different than the others. I was wrong, she finally started to understand Math. She still said she didn't like it, but she was getting it. She was happy & I was happy. I continued to use
Math-U-See
with the younger girls until this year. I decided to try something else. Amber has been fine with what she is using. Delaney was miserable & Alaina is begging to switch back. We received
Zeta
for Delaney to review & I will be ordering Amber & Alaina their next level from Math-U-See very soon.
Math-U-See
is a multi-sensory, mastery program using DVDs & manipulatives to teach math concepts. They believe math is more than memorization and they strive to build understanding. It is available for grades K-12, but the sequence does not follow grades. They are divided into levels and if you would like to use Math-U-See with an older child I would recommend having them take the placement tests to see where they should begin. If you have been using Math-U-See from the beginning then Zeta would be used for 6th grade.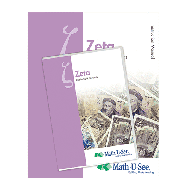 Delaney has been using the new edition of
Zeta
, and she was very glad to be back. We received the DVD, Instruction Manuel, Student Workbook, Test booklet, Manipulative Block Set, and the Algebra/Decimal Inserts. It is divided into 30 lessons and covers Decimals & Percents.
Lesson 4 DVD segmen
t
&
worksheet
are available for your viewing along with the
Table of Contents

.
Zeta Concepts and Skills:
Expanding understanding of place value from positive powers of ten to include decimals.
Fluently adding, subtracting, multiplying, and dividing multiple digit decimals using place-value strategies.
Solving real-world problems with decimals and percentages.
Understanding the metric system and converting from one unit of measure to another.
Additional Concepts and Skills:
Understanding and simplifying exponents.
Understanding negative numbers and representing them on the coordinate plane.
Using properties of operations to simplify and evaluate algebraic expressions.
Interpreting and graphing relationships between dependent and independent variables.
Understanding of plane geometry & geometric symbols.
Using ratio reasoning to solve problems.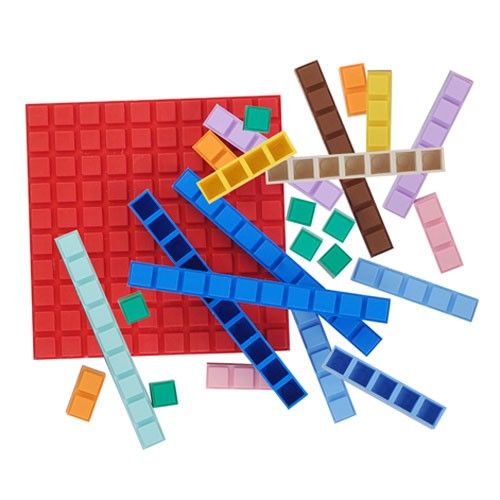 Every lesson is taught on the DVD by Mr. Demme. He explains each concept and uses the marker board and manipulatives to show the student how to work each problem.
The Teacher Manuel offers a written explanation & examples for each lesson. All the answers to the Student Workbook & Test booklet are included in the back.
The Student Workbook is three hole punched and the pages are perforated for easy removal. Each lesson contains 7 worksheets labeled A-G. The Lesson Practice is on pages A, B, & C, a Systematic Review is on pages D, E, & F, and page G covers Application & Enrichment.
The Test booklet contains a test for all 30 lessons, plus 4 unit tests, and a final test.
Delaney started each lesson by watching Mr. Demme on the DVD, and then she would complete the worksheets. She learns by doing so she has been completing all the worksheets for each chapter so far. When we come to a topic that she grasps quickly we may skip some of the practice pages and move on to the review, and application & enrichment. The DVD & worksheets are very easy for her to understand and her attitude toward math has changed since we have started using Math-U-See again.
The Teachers Manual is very user friendly and easy to understand. I haven't had to use it to reexplain anything so far with Zeta because Delaney has understood the concepts just from watching the DVD. All the answers are included in the back of this book which makes it easy to check her work.
Math-U-See has just came out with a
new edition
for Primer through
Zeta
. The DVD has stayed the same. The instruction manuals have been edited to improve diction and accuracy. An Application & Enrichment page has been added to each lesson and the activities rang from dot-to-dot and coloring activities for younger levels and more difficult activities for Epsilon & Zeta.
Changes in Zeta:
The instruction manual has been edited for clarity & accuracy. The changes in the teacher manual are:

Lesson 4: Using zero as a placeholder.
Lesson 6: Official abbreviation for "deka" or "deca" is "da".
Lesson 7: One inch is exactly 2.54 centimeters.
Lessons 6, 7, 8, and 15: Updated discussion of metric measures and metric conversions.
Lesson 16: Including units of measure in area and perimeter problems. Introduction to negative numbers and absolute value.
Lesson 19: Algebraic expressions.
Lesson 25: Statistics and variability.
The student workbook includes the "Application & Enrichment." They include these topics:

Using different kinds of graphs
Solving ratios with charts and tables.
Introduction to simple statistics.
Negative numbers
The language of Mathematics.
Solving inequalities.
If you already use Math-U-See & order the new edition student book you can use the DVD you already own & the answers to the new Application & Enrichment activities are available on the website.