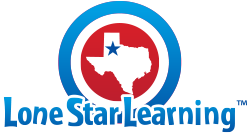 I love using mnemonics with my kids to get them to learn their vocabulary. It makes learning new words so much easier. Amber & Delaney have been using them with their vocabulary this year I have just learned of
Lone Star Learning
vocabulary cards that are separated by subject.
The last few weeks we have been using
Target Vocabulary Picture Set 1
which contains math vocabulary from
Lone Star Learning
. This has been a great addition to our homeschool because there are several math concepts that my girls understand, they just have trouble remembering what they are called.
Target Vocabulary Pictures comes in Primary, Set 1, Set 2, Set 3 all containing math vocabulary. They are available in 2 different sizes. The large set is 11" X 8.5" and the small set is 5.5" X 4.25". A
complete listing
of the vocabulary words are available to help you choose which set you will need, they are not separated by grade level.
We received the small size of
Target Vocabulary Pictures Set 1
and it can be purchased for $29.99 the large set is available for $34.99. This set contains 57 colorful cards that are coated on the front side. Each vocabulary word is used within a picture to visually see the meaning. Also included is a sheet with the definition for each card.
All three of my girls age 8, 10, & 11 used the cards. To begin with we went through the entire stack together stopping to discuss each of the words and laughing at a few. I had Amber & Delaney look at and discuss the vocabulary cards that applied to the math they are using for school right now. I then picked out all the cards that Alaina should already know or has been learning and used them with some hands-on activities to really get the definition to stick.
Of course Alaina's favorite card is the Octagon.
A hard one for my girls (and me) to keep straight is the X & Y Axis, but after looking at the vocabulary card it became so simple to remember.
The Vocabulary Picture Sets are recommended for grades 3-8, but anyone needing to improve their vocabulary could benefit from them. They have made a wonderful addition to our homeschool and will come in handy for several years. It would be so nice to have all math & science sets to be able to use each vocabulary card as we learn the word. Even though the definition is incorporated into the picture it would be nice if it was printed on the back of each card.
Lone Star Learning is a company based in Texas and 100% of their products are designed and printed in the United States. They offer multiple products for different subjects all designed by teachers.

Disclaimer: As a member of the Schoolhouse Review Crew I received Target Vocabulary Pictures Set 1 free of charge to use with my kids in exchange for my honest review. All opinions are my own and I received no other compensation.