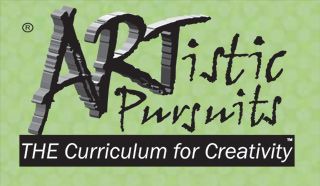 My oldest daughter Morgan truly is an artist, she loved to color & draw at an early age. She maintained art journals all through school and they are beautiful. They are not only filled with just pictures, but full of her & the things she loved growing up. My younger girls like Art, but since their artistic abilities don't come as easy as Morgan's did they will need a little more instruction. That is just one reason I like
Artistic Pursuits
.
We have been using the new 3rd edition of
Artistic Pursuits Middle School 6-8 Book 2 Color and Composition
. I wanted to primarily use this with my 6th & 7th grade girls, but my 3rd grader didn't want to be left out of this class, so she joined us & I am very surprised at how well she is doing.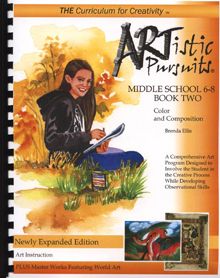 A

rtistic Pursuits Middle School 6-8 Book 2 Color & Composition
can be purchased $47.95. This 92 page book is divided into 16 Units and is recommended for children ages 11 and up. It is written directly to the student if they want to work alone or it reads very well if you want to read & use it with several children at a time. It is also non consumable, so one book can be used with all of your children. Hard or soft pastels and oil pastels are the media used in this book & there is a complete list of
art supplies
located with the
table of contents
. With the suggested schedule this book will last you a full year giving you two 1-hour classes a week.
I have been using this with all three of my girls. We started out learning how to properly handle the pastels then moved on to hue & intensity. The color wheel is taught in a couple units before moving on to monochrome, complimentary pairs, neutrals, warm colors, cool colors, rhythm, texture, and more.
I love the way this art curriculum is set up. In each Unit the child is given the topic & then instructed to observe this topic in their environment. Art Appreciation and Art History is taught by looking at famous artists and their work with the child creating their own work of art. Then new techniques and tools are taught with the student creating their own artwork. The 4th lesson in each unit has the child create a final project using a variety of objects.
Having the Art Appreciation and the Art History included in each unit has been so nice. My girls are usually in such a hurry to get to the assignment that they don't want to spend too much time learning about the history & the artists. Each lesson was just the right length that my girls weren't getting too anxious to start creating, so they could really enjoy the lesson. On each project page there is a Student Gallery containing a piece of artwork by a student. I really like having those in there because it gave my girls a realistic look at about how their artwork should look.
I am learning right along with my girls & am very grateful that the book is non consumable and we can all benefit from it. Having the art supply list in the front of the book is such a help. I knew within just a minute what we needed to purchase. We already had plenty of art paper & the erasers that were listed, so the only thing we needed to purchase were the pastels.
Artist Pursuits just revised all of their curriculum to include more instruction specific to art materials & techniques artists use. Members of the Crew reviewed the curriculum for elementary, middle school, and high school. Sail on over to the
Crew Blog
to learn about other levels.

Disclaimer: As a member of the SchoolHouse Review Crew I received Artistic Pursuits Middle School Book 2 Color and Composition free of charge to use with my children in exchange for my honest review. All opinions are my own & no other compensation was received.