When I make Stromboli for dinner I know everyone will be happy. My family enjoys this so much that I make 3 different loaves so we can have leftovers in the freezer. Of course, they all have to be different.
Stromboli
Dough:
1 cup warm water
1/4 teaspoon yeast
1 Tablespoon oil
1/4 teaspoon salt
1 egg
3-4 cups of flour
~Dissolve yeast in warm water & add remaining ingredients. (I have a Kitchen Aid mixer so I can mix my dough completely in there. If you don't have one you may have to add your flour gradually.)
~Let rest a few minutes & then roll onto a greased 11X15 cookie sheet.
Butter:
2 Tablespoons melted butter
2 egg yolks (save whites for egg wash)
1/2 teaspoon salt
1 teaspoon pepper
1 Tablespoon Parmesan cheese
1 Tablespoon parsley
2-3 cloves crushed garlic
~Melt butter and then add all other ingredients & stir.
~Brush on the middle third of the rolled out dough.
Filling:
Mozzarella cheese
pepperoni
hamburger or sausage
onion
bell peppers
tomatoes
olives
jalapenos
whatever you like
~Cook hamburger & sausage.
~Chop veggies
~Layer them onto garlic butter & then top with mozzarella cheese.
~Fold over the two sides without garlic butter until they meet in the middle. Pinch together.
~Brush the top of dough with egg white.
~Bake for 25-30 minutes at 425°
Delaney & Alaina like pepperoni, hamburger, & cheese in their Stromboli. Amber likes to add green olives.
I like pepperoni, hamburger, onions, tomatoes, bell peppers, & cheese. Mike has the same thing with olives & jalapenos added to his.
This week I am linking up to two different blogs. Marcy at
Ben and Me
is hosting Blogging Through the Alphabet. Lisa from
Home to 4 Kiddos
is hosting a Recipe link up. Head over to their blog and read what other people wrote about.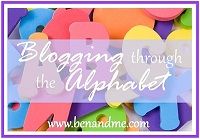 Thanks Marcy