M is for Magazine.....
The Old Schoolhouse Magazine
is my favorite magazine of all time. It is full of encouragement for homeschool families, and a lot of information about school subjects & curriculum. This is the only magazine that I even like all the adds. And the best part is it is FREE. You can read it on your computer or from apps on your smart phone or ereader.
You will definitely want to check out the Show & Tell article on
page 20
of the
December 2012
issue. It is about my family!!
Hope you enjoy visiting our home.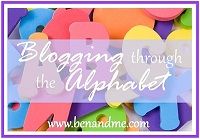 Thanks Marcy