Every year my kids pick out a new Christmas ornament. We have quite the collection & this year we put up 5 trees. We have our big
tree
, and 4 small trees.
Michael usually picked out sport team ornaments, mostly Huskers. The first Christmas he was married I gave him his box of ornaments. That was a very sad day for me. There is so much history in that ornament box & I hope Shelby appreciates having a part of his childhood. I kept his stocking, I didn't want to part with it!
I still have Morgan's ornaments. The girls decorate our green 3' tree with hers. She picked out a lot of different ornaments over the years.
Amber has a purple tree that is in her room. She probably has the biggest variety & her favorite one is her nutcracker.
Delaney has a blue tree. She tends to choose dolls or elegant ornaments. One of her favorite ornaments is the china doll in pink.
Alaina has a pink tree & she usually leans toward animal ornaments. Last year I think she ended up buying a couple of pig ornaments.
This is our main tree & some years I decorate it with the red, white, & silver ornaments, and other years I use purple & silver. My favorite ornaments are my blown glass icicles & my sayings.
I filled the glasses on my piano with ornaments this year. I don't normally like blue, but I think they look pretty.
My sweet hubby brought me some purple flowers the other day, so I pulled out some of my purple ornaments to go with them.
The girls haven't picked out their ornament for this year yet, I guess we better do that soon.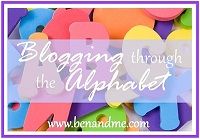 Thanks Marcy