My girls love music! They can very easily spend hours a day practicing the piano, ukulele, flute, and saxophone. Sometimes they even argue over who gets to practice piano first. They also love to sing. They sing along to songs at home, in the car, and have sang for church. After piano lessons and band a vocal program was next on our list to try.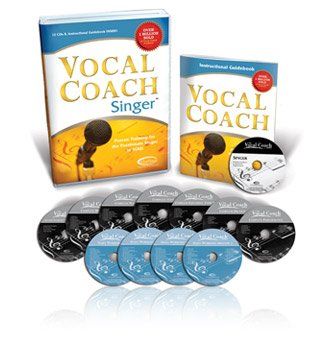 Vocal Coach Singer
is a voice program that is really private voice lessons for beginners or professionals. It includes 7 training CDs, 4 workout CDs, an instructional guidebook, plus a CD with printable lead sheets for the vocal exercises & your own singer's journal. This program is available for $119.99 or you can purchase it as MP3 & PDF files for $99.99.
7 Training CDs:
Getting Started
Complete Breathing
Complete Warm-Up
Complete Tone
Complete Expanding Your Range
Complete Diction
Complete Performance
4 Workout CDs:
Daily Workout High Voice 1 & 2
Daily Workout Medium/Low Voice 1 & 2
Plus these great educational tools:
Guidebook – Full-size Instructional Guidebook to Ensure Success
Printable Lead Sheets – each exercise in our course, plus track lists
Personal Singer's Journal (Getting Started Journal & Workout Journal) to Track Your Progress
Vocal Coach Song Evaluation – Evaluation form to enable you to make more intelligent song selections
We received the download version of the program and it was very simple to download and works very nicely on the computer. I chose this program over Teaching Kid's to Sing because Amber has so much musical ability & I wanted her to be able to really excel with this. I started using this program along with Amber (age 11), Delaney (age 10), and Alaina (age 7). Alaina didn't last long, she couldn't control her laughter while we all practiced breathing and singing "Mee May Mah Moh Moo." I'm really hoping that is because she thought the words were funny & not our singing!
There isn't an exact lesson plan to follow with this program, but listening to the Getting Started CD & then starting with Complete Breathing is recommended. If you like keeping a daily log of what you are doing a Singer's Journal is included.
We started out listening to the Getting Started CD and this gave us a brief overview of the program. Chris Beatty not only tells us what we are to do he also explains why things are important. The first CD to use is the Complete Breathing. In the 23 tracks we are told why it is important to breath correctly and the importance of exercises & correct posture to sing our best. He then sings a selection showing us where we should breath & we sing it after him. The exercises gradually get longer before taking a breath. We are just now finishing up the breathing exercises and are looking forward to moving on & can't wait to see how much we can improve our singing. I have already noticed a difference from using this first CD.
We are now ready to move on to learn how to sing our vowels & consonants, improve our tone, and expand our range. The techniques that are taught in this program will benefit every type of singer as well as improve your speaking. We are also given tips on choosing songs to sing, facial expressions, sound systems, selecting the key, and more.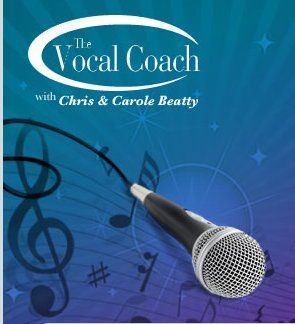 Chris & Carole Beatty
created
Vocal Coach
products and have sold millions of products world wide. Vocal Coach Chris is an accomplished singer, songwriter, author, and mentor and has taught & coached thousands of singers of all ages and abilities for over 40 years. Chris also offers
one-on-one instruction
at his studio in Brentwood, TN or online. He keeps
a blog
where you can find articles, free resources, and even ask him questions.
Some members of the Review Crew received

Teaching Kid's to Sing

. Sail on over to the

Crew Blog

to read about it & other reviews of Vocal Coach.

Disclaimer: As a member of the TOS Review Crew I received Vocal Coach free of charge to use with my children in exchange for my honest review.