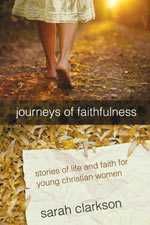 Do you ever think about what kind of people God uses in the Bible to do his work? In
Journeys of Faithfulness
, Sarah Clarkson challenges today's young women in their relationship with Christ by looking at heroines in the Bible. By taking a closer look at the lives of Ruth, Esther, Mary & Martha, and Mary, mother of Jesus, Sarah shows us that the women God used are just as ordinary as young girls today.
In Journeys of Faithfulness we are introduced to each heroine through a biblical fiction story of how they could have lived & what they could have been like. There are devotional sections where the author shares a personal story, Bible study with references, and Journey Journal pages to make your own notes. The
first chapter
can be read at Apologia.
I read this book out loud to all three of my daughters ages 7, 10 & 11. I have mixed feelings about Biblical Fiction because it is easy to think that what is being said is fact. I made sure to tell my girls that this is one persons opinion as to what could have happened. We also read the Bible account of each of the stories to see exactly what it says.
On the other hand I love the way this book is written, the stories really got us to thinking about the heroines and how they are not perfect. It caused us to think of the biblical women as real people. We also talked about what we thought the young women could have been like, what character traits they have & how we can apply these to our own lives. Since we read it together we used the Bible Study questions as discussions. I like that a Bible reference is given and there are some fact questions so my youngest daughter could answer some & that there are thought provoking questions that got my older girls thinking about how they can live for God.
This book is for young christian women, I guess that means I'm still young because I benefited from this as much as my daughters. I like to be busy & active, so the story of Mary & Martha really hits home for me. I am definatly more like Martha, and need to work on being more like Mary.
Journeys of Faithfulness
is recommended for ages 12 and up, the 232 pages are divided into 4 parts containing
12 chapters
. It is available from Apologia for $13.00.
S
arah Clarkson
began her walk with God at age 16, and she is passionate about passing on the ideas of literature and Scripture through writing and discipleship. In 2009 she published a guide to the best children's stories,
Read for the Heart
.
Apologia
Educational Ministries has been publishing homeschool curriculum since 1996, and now offer new books, online courses, networking and encouragement, and live conferences.
I have 2 copies of Journeys of Faithfulness, and I would like to bless one of my readers with my extra copy. If you live in the United States enter to win your very own copy.
a Rafflecopter giveaway

Disclaimer: As a member of TOS Review Crew I received Journeys of Faithfulness from Apologia free of charge in exchange for my honest review.