I think every kid at one time in their life dreams of living in the wild somewhere in the middle of nowhere and flying in and out for supplies. My girls like to build forts in the yard and pretend they live in them. They were very excited to learn about kids who really do live in jungle hut.
The
Growing Up Wild
DVD set shows us how a missionary family with 4 boys live in the jungle of Papua, Indonesia in the Wano village. Interestingly enough the family's last name is Wild so the title is very appropriate.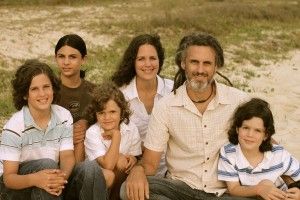 The Wild Family
The
Wild family
decided to make the DVD series of their lives to educate and challenge children, and to help raise up a new generation of missionaries. Growing Up Wild started out as a creative outlet for the Wild family and took 3 years to film and produce. There are now 5 volumes and they are recommended for children ages 5-12, but can be enjoyed by everyone. Each volume is
$18.99
or you can save 15% if you buy the entire series for
$80.99
.
We received volume
1
&
4
of the Growing Up Wild series. All 3 of my girls ages 7, 10, & 11 were very interested in them. Each volume contains 3 episodes on a DVD and activities for each on a CDRom.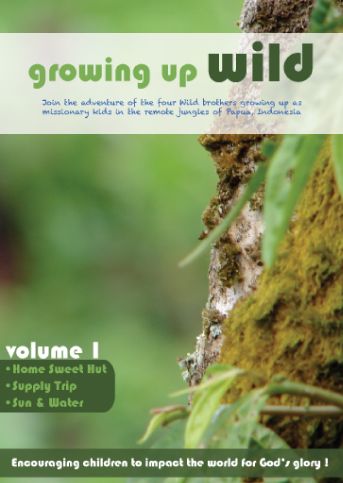 Volume 1
Home Sweet Hut ~ In this episode we get to see the house of the Wild family. We are told how the house is constructed and how it differs from the other Wano houses and how it is like ours. Some of the suggested activities are building a hut like the Wano people, fill in a Venn diagram comparing your house with the Wild house. For an extended project create a photo journal of the trees in your area by taking pictures for each season.
Supply Trip ~ Here we get to see how the Wild family get their supplies and how they get them to their jungle home. They walk almost two hours to meet a plane just to go to town, on the return trip they take the plane & then a helicopter will meet them to drop off their supplies at home. They must keep track of the things they use every day so that they can purchase enough supplies while they are in town. Activities for this episode include keeping track of what your family eats in a week, tour an airstrip, interview a missionary, and create a thankful list or song to God for what you have.
Sun & Water ~ How do you get electricity & running water in the middle of the jungle. In this episode we see how water is collected from the stream and pumped into their home. This allows them to wash clothes, dishes, and have a flushing toilet. By using the sun & solar panels electricity can be obtained and stored in batteries to use when needed to run the lights, computers, a few appliances, and the radio. The bible lesson for this episode is how God is the light of the world. Activities include studying alternative power sources, making a solar oven, learn where you get your electricity & arrange a field trip there.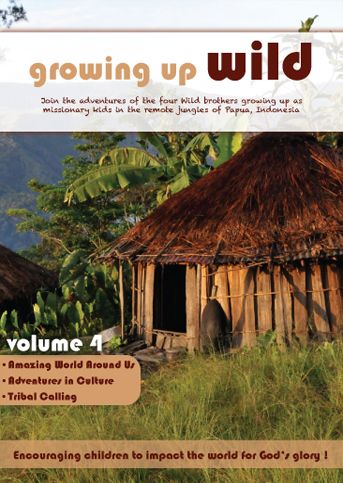 Volume 4
Amazing World Around Us ~ How would you like to catch an 11 foot snake to cook for dinner? In this episode we get to see some animals that live in Indonesia & learn a little about them. The activities for this episode include comparing reptiles to mammals, look at creation & evolution and compare the differences, take a trip in your neighborhood and learn about the animals that live there, and learn about the environment & the ecosystem.
Adventures in Culture ~ We learn about the Wano culture, how they live, fight, hunt, dress, and play. We get a look at some things they eat & how they make spoons. A big thing with the Wano people is the piercing of the septum and we watched as 2 of the Wild boys get theirs pierced. The activities include comparing our culture with that of the Wano people.
Tribal Calling ~ The Wild family and other missionaries that live with the Wano people learned the Wano language in three years and created an alphabet for it. After learning the language the missionaries translated the Bible into the Wano language and started a church to make disciples of Christ. We are encouraged to look at our own lives and ask God to make our paths known to us. The activities include making an iceberg picture with missionaries above the water & all the people who play a roll in their success under the water, and researching and writing about a christian hero.
My girls really liked the episodes & have watched them several times, it has been there first look at missionaries in a jungle. They were very intrigued by the Wild family house and how they picked up supplies, although they couldn't imagine eating squid tentacles, and fish eyes at a restaurant. We were all very surprised at how many modern conveniences the Wild family use in their daily lives. The thought of getting your septum pierced was gross & would hurt, but in our culture most girls have their ears pierced. My girls had a lot of questions as we watched the episodes, not only about the Wano people but also differences within our own country. We also talked about how we can be missionaries right where we are by telling others about God's word. The activities really add to the episodes. We learned so much more than just what missionaries do and how they live. We studied about animals & reptiles and visited a zoo. Researched power companies and solar energy, and now my girls love to make Venn diagrams for everything they compare.

Disclaimer: As a member of TOS Review Crew I received Growing Up Wild volume 1 & 4 free of charge in exchange for my honest review.