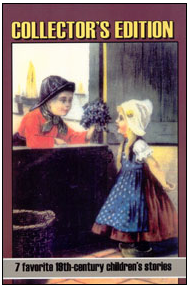 I read a lot of books out loud to my family and we are always on the look out for new stories or authors to add to our collection, some of our favorites have been older books. We just finished reading a collection of stories that was first published by the American Tract Society in the 1800's.
The Collector's Edition: Seven Favorite 19
th Century Children's Stories is another volume of The Children's Heritage Series from Grace and Truth Books. The 7 stories are Farmer Goodwin's Rule, Ruth's Reward, Little Bill at the Pump, Who Is a Coward?, The Lost Lamb, The Good Shepherd, and The Death of Emily. This paper back book retails for $7.50 but is

$6.50

from Grace & Truth Books.
All 7 stories include good moral and biblical characteristics. We see that we can serve God even when it is difficult to do so. Our words and actions can change people to want to live a life of service to God even when the hearer doesn't take head to them for many years. We are shown that a coward falls into sin, and that it is better to stand alone and be laughed at by men, than frowned on by God.

I like that these stories quote scripture and show how they can be applied to the lives of the characters. Our favorite story is Farmer Goodwin's Rule. This story helps us realize that you can make a difference in someone's moral character. We may think that the things we say are often forgotten and never applied to an individual life, even years later our words can still make a difference in people's lives.

I read this book to all three of my girls ages 7, 10, & 11. While we read the stories we discussed the good & bad things that are going on in our lives that were like the characters. We talked about how we can change our lives to better ourselves, and to be more of an example and encouragement to others.

Grace & Truth Books
is an online Christian bookstore that offers products that will glorify God, strengthen His people, and help them find joy in knowing & following Him. They are not interested in fancy packaging and following the latest trends. They offer books, music, videos, bible helps, items especially for kids & teens, and even titles in Spanish. Their
Children's Heritage Series
address children in talks that challenge their character, and encourage them to live godly lives.
Members of the Crew reviewed several books from Grace & Truth. Sail on over to the
Crew Blog
to read about them.

Disclaimer: As a member of TOS Crew Review I received The Collector's Edition free of charge from Grace & Truth Books to use with my children in exchange for my honest review.