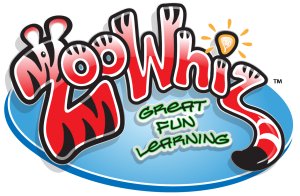 ZooWhiz
is an online learning game covering
math, reading, spelling, grammar, and punctuation
for kids ages 5-15. As the child completes the learning activities they will be rewarded with coins to purchase animals for their zoo or to play in the arcade.
I received 3
Premium Zoologist
accounts for 12 months, so all three of my girls have been building their zoos. While setting up the child account you get to choose the age level, this allows them to work on their own level and higher. They will not be allowed to waste time on work that is too easy. If you find the work is to hard or easy you may change the level any time.

When the child first starts they get to choose their avatar, or if you can't make up your mind which one you want you can change him any time.
On the child's zoo page they can access the Learn & Earn, the Biodome, Arcade, and your Milestones. At the bottom of the screen you can see your avatar, and how many coins, animals, and points you have. The Learn & Earn is where the child can choose what academic activities they would like to work on. They have the choice of resuming where they were the last time they played or changing to a different subject. They can choose between Math, Words, and Reading. If they answer the problem correctly they will be awarded coins to spend in the Biodome or Arcade. If the answer is incorrect they are asked to try again. After they earn coins they can visit the Biodome and purchase new animals or head to the Arcade to play games. The Milestones tower is where you can view your results for each age level. The child's progress is displayed as a smiley emoticon in different colors and expressions according to how well they preformed their learning activities.
While you are visiting your zoo in the Biodome you can view information about each animal. You can learn about the scientific information, details, habitat, diet, and if there are any threats to the species.
The Milestones tower is where you can view the child's progress. It is very easy to see how well the student is doing by glancing at the smiley emoticons. By clicking on the smiley face below you can see what type of problems the child has completed so you will know exactly the kind of problems they have mastered and what they should be working on. It will take you to the exact problem the child completed.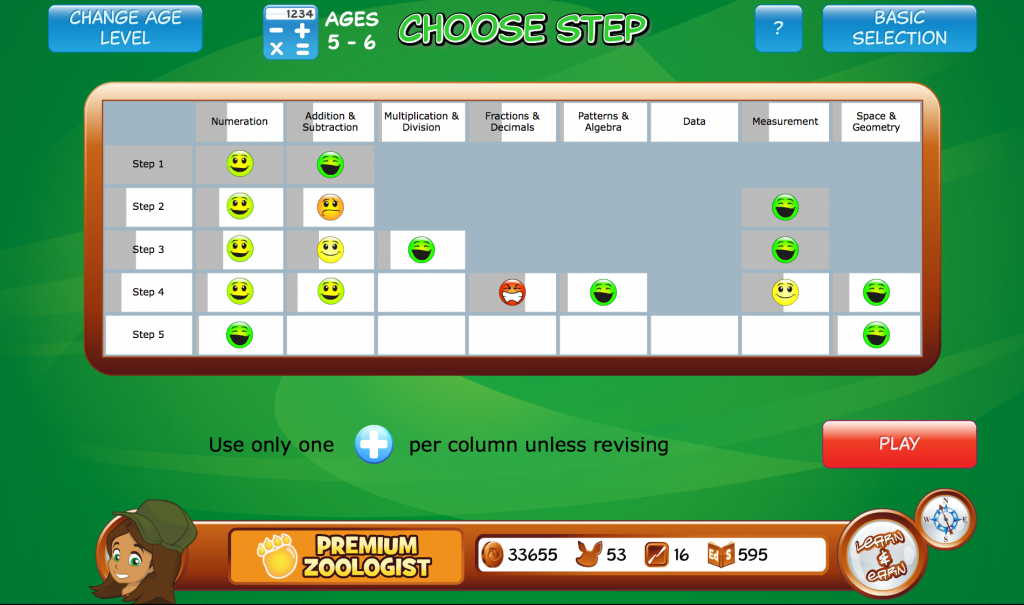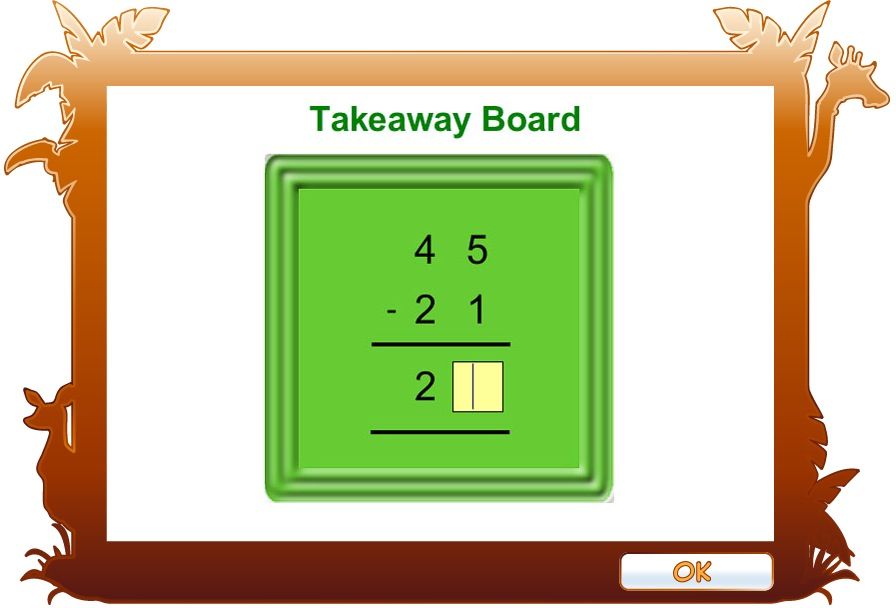 The
Math
exercises are divided into 7 progressive levels with over 11, 200 learning activities that cover all the essential maths skills. It promotes higher-order mathematical thinking and problem-solving strategies. It helps build mental maths ability and recall of number facts. My girls were given several different types of problems. Some were regular math facts, some asked them what happened in the problem to get the correct answer.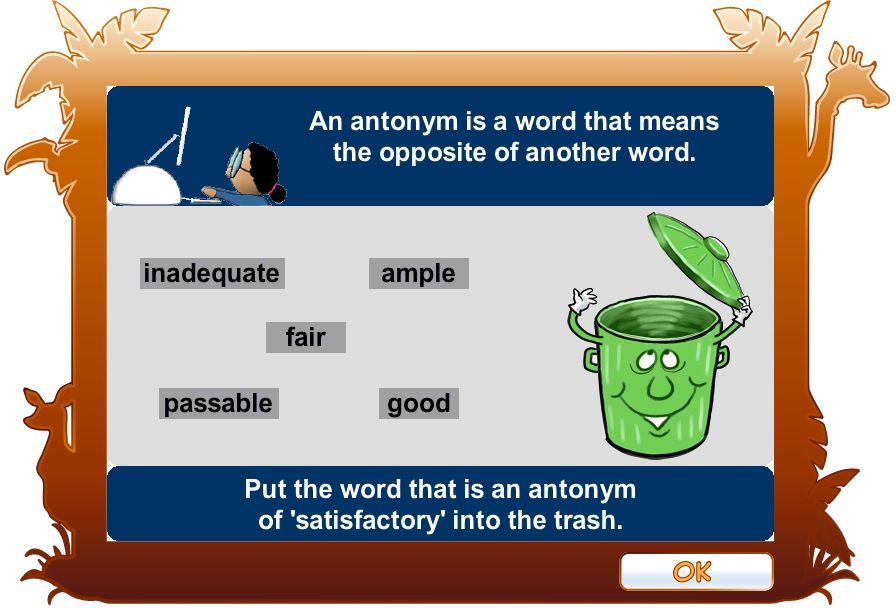 There are 3 progressive modules for the
Word Skills
. The 3,250 activities build language skills and promotes confidence in understanding and using correct spelling, grammar, and punctuation. Younger students work on letter recognition and tracking for beginning readers. They can then progress through spelling patterns & rules, parts of speech, punctuation, and word origins including idioms, cliches, metaphors, and similes. Some of the work my kids completed were adding prepostitions to a sentence, proper use of punctuation, recognizing parts of speech, reading for meaning, and finding correct meanings.
The
Reading
section is divided into 6 progressive modules developing reading skills. The 2,900 activities help students learn to read the same way they learn to speak by using over 3,800 audio files for phoneme, vocabulary, instructions, and more. The first 4 levels use spoken instructions, audio reinforcements and corrections, in the last 2 modules children no longer need this. The lowest level starts with introducing letters, phonics, spelling, and more covering letter correspondences for all 44 phonemes. Some of the activities here included letters, sounds, sequencing pictures, and alphabetical order.
All three of my girls, ages 7, 10, & 11 were given the Premium Subscription to ZooWhiz. They love being Premium Zoologists, and adding animals to their zoo. They are constantly researching different animals, so they were more than happy to complete the learning activities to add more animals to their zoo. They also enjoyed playing the arcade games. Their favorites are the Bubble Plunge and Pattycake Panic.
I really like that you can change the learning level for all three categories separate. My 11 year old loves to read, my 10 year old loves vocabulary & spelling, and my 7 year old loves math. So this allowed me to set each one of my girls at a higher level on what they are good at & lower on what they need to work on. I also like that the kids can only play on a game for a limited time although they did figure out that all they had to do was go back in to play again during the same setting.
My girls have really enjoyed working on ZooWhiz. They could all 3 work independantly, so this gave each one of them something to do if I was helping their sister. ZooWhiz is from Australia and there were a few words in Alaina's level that she had trouble understanding because of the accent. When that was the case either one of her sisters or I would repeat the word for her.
ZooWhiz offers a
free Zoo Keeper version
, but the
Premium Zoologist Subscription
is currently 75% off, that makes it only
$14.95
for one year. Just set up the free account and click on upgrade to become a Premium Zoologist. If you are not
completely satisfied
you may cancel within 14 days for a full refund.
ZooWhiz started
out in Australia in 1987 and they are now in over 70 countries. It is in
Early Release Stage 2
which means they will still be adding new content over the next couple of months.

Disclaimer: As a member of the Schoolhouse Review Crew I received a 3 -12 month Premium Subscription to ZooWhiz to use with my children, free of charge, in exchange for my honest review.