Box of I.D.E.As
. is company dedicated to creating delightful interactive learning modules centered around random subject areas. They offer modules for multi level students ages 9-16, students will be drawn into critical thinking & knowledge building activities through a variety of fun topics. Each module is easily portable to create learning opportunities on the go.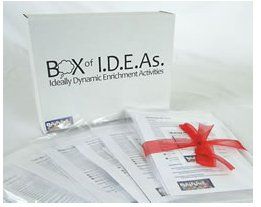 We received the
PDF file
of
World War Two Pearl Harbor
. It contained 10 modules, tests, answer key, and introduction letters. It is recommended that this topic be studied in order due to the chronological study of Pearl Harbor. Each module contains 7-14 pages and are set up in basically the same format. They all start with a quote, a list of the content of the module, and then a list of what needs to be done to prepare for the module like printing & cutting. The informational pages can be printed or read from the computer. Extensions and web links are included for further study. There are worksheets to print out and include in a student notebook, and each module contains fact cards with game directions. Also included are copies of original newspapers, links to actual video footage, copies of original documents, and more.
Box of IDEAs has been a great study. We aren't finished yet, but we are learning so much more than just history of Pearl Harbor during the war. Here are the 10 modules with some of the things we are learning. Box of IDEAs also has a
description
on their Pearl Harbor page.
Before Becoming A Base ~ We learned some history of Pearl Harbor, learned about pearls & oysters, endangered animals, and even read some Hawaiian folk tales.
Beginning of A Naval Presence ~ Bathymetry maps, sea exploration, and whaling are included in this one. It was very interesting to see real artifacts from a whaling ship & watch a documentary on whaling.
A Week Before The Attack ~ Here we got to learn about military convoys, what ships were included & what they had on board. We played a card game called Power in the Pacific, and even learned a little G.I. Speak.
Day of Infamy ~ In this module we see FDR's speech 'A Day of Infamy' along with notes he made on it. The cards take us through the day, and footage after the attack make it so real.
Day After the Attack ~ Newspaper articles are shared with us & we learn how important newspapers were at this time.
A Week After the Attack ~ We visit a Hero's Hall of Fame and read about 2 men's experiences in World War Two. A lot pictures are included to give us a good look at the War.
Six Months After the Attack ~ Ship building and code breaking are in this module, and we will see actual footage of interviews of the code breakers of WWII.
A Year After the Attack ~ We will study about the history of aerospace, and learn about air combat maneuvers.
Victory Over Japan ~ We get to see the signatures on the Article of Surrender. We also learn and see photos of dropping the atomic bomb at Hiroshima & Nagasaki.
Decades After the Attack ~ We see how things have changed and learn about memorials that have been erected in the United States and the world.
I have been using this unit with all three of my girls ages 7, 10, & 11. I like having this in a PDF format. All the modules are in a separate file, so it is very easy to find the one you are on. I printed the task cards and worksheets and we read the information on the computer. This worked out well for us because then we could just click on the additional web links. We all liked having the documents, interviews, newspaper articles, and actual photos. They make it seem more real. My girls love the activity cards, I printed them onto card stock, but I'm thinking I should have laminated them too because they like to quiz each other with the information.
I really like how this study is set up. Not only did we learn about the attack of Pearl Harbor, but we also learned about what is was like before, how it got it's name, and why there was a naval presence there. We like including pearls, whaling, newspapers, documents, and interviews in our study. We are all looking forward to completing this unit.
World War Two Pearl Harbor can be purchased from Box of IDEAs as a
physical product for $79.00
, or in the
PDF format for $49.00
. If you purchase the physical product you may need the
extra Student Module for $4.00
.

Disclaimer: As a member of the Schoolhouse Review Crew I received Pearl Harbor PDF from Box of I.D.E.A.s. free of charge to use with my children in exchange for my honest review.