Samson's Classroom
is an online program where children in grades K-5 learn sight words, spelling words, and work on reading comprehension. This program is an "umbrella" product and you have access to every product in Samson's Classroom. If new products or upgrades are added you will automatically have access to those with no additional cost.

I have been using Samson's Classroom with Alaina, age 7. She has a login name and password and so do I. When I log into my account I can see how many games have been played & who the top students are (for more than one child), and if anyone has earned their black belt in sight words. I can play all the learning games from my page, and see all the students scores plus mine on one page. This is also where I can add my own spelling list. When Alaina logs in she has the option of changing her password, see her profile, check on all her scores, and play the games. Her scores contain 3 sets of statistics one for each category. Each set shows the lesson or level that has been completed and perfect scores are marked with a check in a green box, if they need more improvement the box is read & contains an X.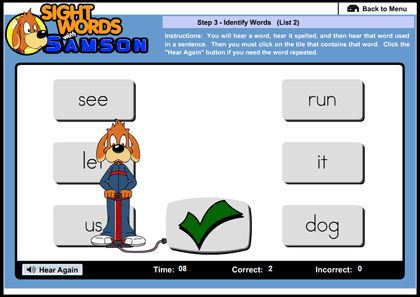 Sight Words with Samson is set up for beginning readers where they can master the 224 most commonly used words in the English language. When sight words are first introduced to the child they are given a group of letters in random order. The child will hear the word pronounced and spelled, and they will click on each letter of the word in order. In the lesson above the child is told a word & they click on the correct one. Below the child is read a sentence and they must click on the correct word to fit in the blank to collect diamonds.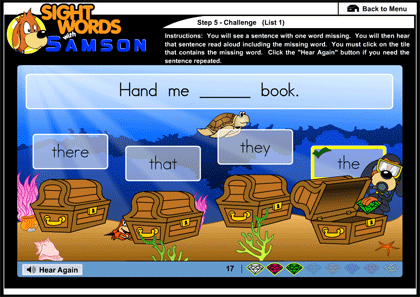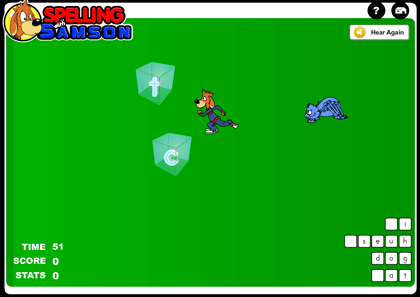 Spelling with Samson uses more than 5,000 words to captivate students while they are improving their spelling. The student can work on spelling lists that are included or the parent/teacher can create their own lists. There are 4 parts to the spelling. There is a word list where the child sees the word, hears the word & it is used within a sentence. In another section they fill in the missing letter of their words. If it is answered correctly Samson uses karate to break a board. In the spelling scramble (above) the child tries to run into all the letters before the spider catches Samson. Once all the letters are gathered the child is told a word and they must arrange the letters in the correct spelling. In Crunch time Samson needs help crossing the icebergs to get to the igloo by typing the correct spelling. If you take to long to spell it correctly the walrus will knock Samson into the water turning him into an ice cube.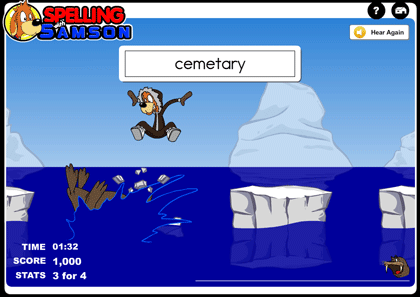 Reading with Samson helps students with their reading comprehension and they learn to draw conclusions and answers based on the selected reading. In this section students are given a reading selection to read with questions to answer. If the problem is answered incorrectly the paragraph that the answer is in turns red. After completing the lesson the child earns hammer points so that Samson can have a turn at the hammer game. The child is awarded points for each hammer strike. These points are then used to rank students with high scores.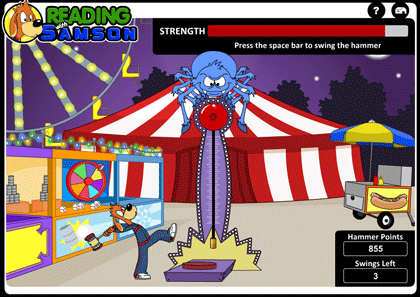 Alaina has really enjoyed working in Samson's Classroom, it is more like a game to her than actual work. Her favorite part is where she fills in the missing letters and if she gets the correct answer Samson karate chops a board. She was very frustrated with the Spelling Scramble, she had trouble getting Samson to move where she wanted him to go. I really like that I can add our own spelling lists or use the ones available if I don't get a new one added. I really like the reading selections, they seem to be just the right length and questions to build her comprehension.
In the
Resource Section
you have free access to articles on sight word statistics, lesson plans, flashcards, worksheets, certificates, and sight word games.
Samson classroom is available in several different
pricing options
. For home use with one child it is $30.00 per year and only $50.00 for 4 students. There is also pricing for classroom & school use.

Disclaimer: As a member of the TOS Review Crew I received a family subscription to Samson Classroom to use with my children in exchange for my honest review.