KinderBach
is a music program for young children ages 3-7. It is taught directly to the child using playful characters so even if you have limited knowledge of music you can still teach your children.
KinderBach is a 60 week program, it is divided into 6 levels with 4 lessons per week.
Online access
is $95.88 per year or $19.99 per month. DVDs and songbooks are available per level or in
different packages
and there is a new
iPad app
. You can meet the
KinderBach characters
, enjoy a
free lesson
,
free song downloads
, and
coloring pages
.
Alaina is 7 and she has been using KinderBach. She used it last year when we
reviewed
it and was very excited to have a chance to work on the program again. Since she used the beginning of the program last year I had her start at level 4. When we first logged in I printed off the PDF download that went with that level. Alaina watched the videos on our Kindle Fire so she could be near the piano. She already takes piano lessons, but she has really liked using KinderBach and it has helped her with her dynamics.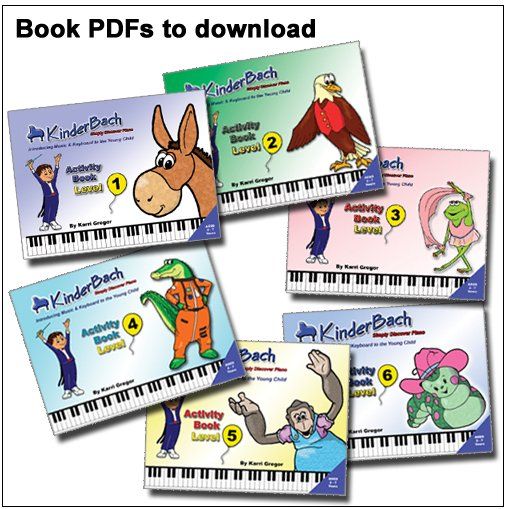 Each level has a PDF book to download and print, a
sample of level 1
can be downloaded for free. Each book can be downloaded and printed all at once or you can print the pages each day.
This is the learning center. Here you can change levels at the top of the screen, then you can choose which weekly lesson you are working on. If you click on the PDF Book at the bottom you can download or print the entire book for this level at one time.
Miss Karri uses 22 hours of video to introduce students to keyboard characters, and the Grand Staff clefs. Proper hand position for a scale is taught as well music direction, rhythm notes, beat value, and some dynamics. The notes are taught by using cute characters and is remembered by using the piano key as their home. The video sessions contain many different activities. Children are taught to keep the beat by clapping and making their own rhythm instruments, they learn to recognize high notes & low notes by standing up tall and squatting down. Some of the sessions have the student sing and play the piano. A complete
syllabus by level
is available for the curriculum.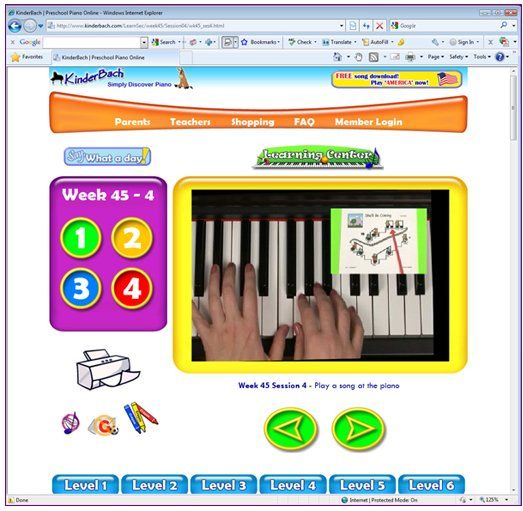 In this lesson the student plays the piano by using the characters on the worksheet. Miss Karri shows the student how it is played & then they can use their worksheet that looks just like the one shown on the video to play it themselves. It is very easy to navigate this program. The level choices are at the bottom and the purple box indicates which week you are on & you can choose the session you are ready for. You can print the pages that you need for this lesson from the printer picture at the bottom.
On this page you can see that the character is included with the note. In the earlier lessons the child is taught what character goes with what note and they actually learn to play the note by the character instead of finger number like a lot of beginning piano books.
Alaina has really enjoyed using KinderBach. She loves the characters and all the worksheets that go along with it. She loves to color, so the characters on every page are colored. I think it made her feel special because she had her own program that she could use the Kindle Fire & the piano while everyone else was working on other things.
Her retention of what she learned last year when we used this was very good. I thought we might have to go back and review some things but she remembered most of the information. I like that she could use the program completely on her own. The Kindle saved her password & she knows how to get exactly where she needs to be. This program has given her more confidence in her piano playing.
There has been research done that provides evidence that the
study of music promotes intellectual development
. There has been a dramatic difference in Math and Language skills of preschool children with music and those without. Children who have had piano lessons out performed all other groups at puzzle solving, and up to 80% higher scores than non-musical children.
Dr. Fujioka, Baycrest's Rotman Research Institutes
has found that musical training can improve the IQ of school-aged children.
Miss Karri
created KinderBach when she was looking for a music program for her young children. She started teaching other children and eventually had 150 students. To keep everyone up with their class she would record the session so they could work on them at home. She even had some kids taking lessons only via VHS. After moving she didn't want to start up another studio so her & her husband decided they would offer piano lessons on video. She used her artistic skills to improve the videos & KinderBach was born.
Members of the TOS Review Crew have been using KinderBach online & the iPad app. Sail over to the
Crew Blog
to read what others think about it.

Disclaimer: As a member of the Schoolhouse Review Crew I received a 6 month subscription to KinderBach to use with my children free of charge in exchange for my honest review.