Tradition: an inherited, established, or customary pattern of thought, action, or behavior.
What traditions do you pass to your children?
We all have traditions in our family, whether they are day to day traditions, weekly, or just for the holidays. When two people get married they bring with them two sets of traditions and habits that need to be combined. A tradition my husband, Mike, grew up with was that his mom cooked the same thing for dinner every week. They had roast one day, tacos, homemade sub sandwiches, and pizza every Friday night. That is not the way I cook, I cook whatever I feel like having that day. If there is a day when I am unsure what I want to fix Mike will say if you had the same thing every week you wouldn't have to worry about it. Even if we grow up and change the traditions we grew up with it is still a memory we can cherish & look back on our entire lives.
Mike is always on call for his job, so our schedule can vary from day to day, but one thing we do every day is family devotions & our read aloud time before bed. Once our kids started reading I wanted them to get in the habit of having their own personal devotional time. I had them read a small toddler Bible with a Bible story, picture, and one question to answer. When they finished the toddler Bible they got to pick out their very own Bible, and I had them start reading from that every morning. The last couple of weeks we have been reading the
Deep Blue Kids Bible
.
The
Deep Blue Kids Bible
is written in the
Common English Bible Translation
, and is recommended for children ages 7-12. It is approximately 8.5" X 5.5", is written in 9-point type and contains a Bible dictionary, 8 full-color maps from National Geographic, in-text subject headings. The retail price for the flex cover edition is $26.99, but can be purchased from various retail sources and right now it is
$17.81 on Amazon.com
.
Videos to introduce
this new Bible have been made and a
PDF sample
is also available.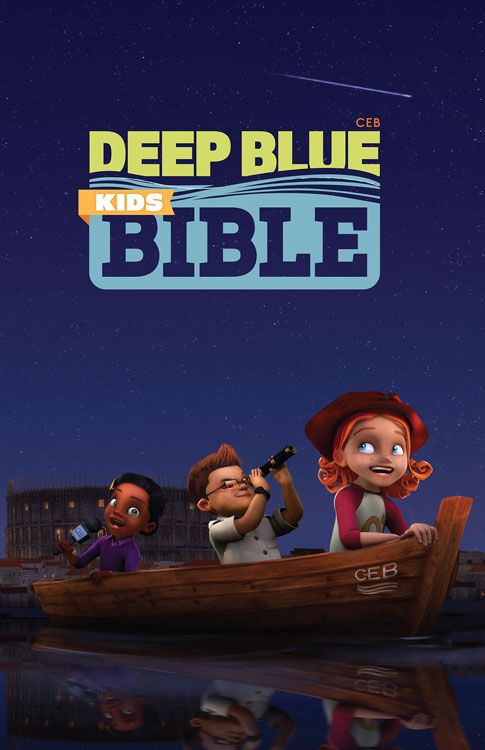 The
Common English Bible translation
was put together by 120 Bible translators from 24 denominations and 500 Bible readers from hundreds of different churches. They wanted to use words and phrases that sound natural in today's conversation, so that it would mirror how we talk, read, and write today.
In the beginning of the Bible we are introduced to 3 kids who love adventure and want to dive deep into God's word with us. Throughout the Bible they share with us God's thoughts & their thoughts on selected passages. The In-text Notes & Features include:
Sailboat notes point out positive traits we can have in our lives.

Umbrella notes explain unhappy emotions and traits that aren't good for us.

Lighthouse notes help us follow God for life by developing a solid faith.

Life Preserver notes answers tough questions & hard-to-understand passages.

Did You Know? Points out Bible trivia, customs, and practices.

God's Thoughts/My Thoughts explains how the Bible applies to life today.

Navigation Point marks key promises and passages to memorize.

Bet You Can! encourages us to read the Bible for ourselves.
For each book of the Bible we are given an introduction, and we are told things we will discover, people we will meet, places we will go, and words we will remember.

We received the flex cover edition of the Bible, and have been using it for our individual (ages 7, 10, & 11) & family devotions every day. We compared some verses to our regular translation, read random chapters, some book introductions, and the book of Esther & Ruth to get a feel for how some of the books flowed.
We really like the way this translation reads, especially when we are reading straight through a book. The In-text notes were right on to some of the questions that my girls asked while reading. The introduction to each book gave us a good idea of what the book is about & who we will meet. I like how it tells us where it takes place & what it is called today. One of our favorite things is the Bet you can! when we are told to read a selected passage in a certain amount of time. We all had to take turns and then we had to go again to see if we could beat our previous time.
The most important tradition we can teach our children is to set apart time each day for their own personal devotions, and the Deep Blue Kids Bible is a great Bible to start with.

Disclaimer: As a member of Schoolhouse Review Crew I received the Deep Blue Kids Bible from Abingdin Press free of charge to use with my children in exchange for my honest review.