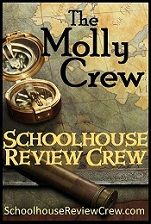 I have been on the

Schoolhouse Review Crew

since June 2010, and now they are starting the

Molly Crew

. The Schoolhouse Review Crew uses items for the homeschool, the Molly Crew will review items for your home. I am just as excited to be part of the Molly Crew as I am to still be a part of the Schoolhouse Review Crew.
If you have a product for the home you would like 100 blogs to talk about, we would love to

review it

, and each month one review will run in the

Molly Green Magazine

.
Watch for my first review for the Molly Crew this week!! It has to do with one of my favorite things to do .....cook!