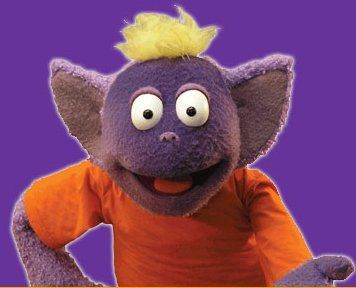 Speekee
is the name of this cute purple puppet. She has her very own TV show where she interacts with Spanish speaking children and their friend Jim to immerse your children in the Spanish language. My girls loved it last year when we
reviewed
it, so when I asked them if they would like to use it again they were very excited.
When we reviewed Speekee in early 2011 all three of my girls enjoyed it, but it really sparked an interest in Delaney. She loved the skits with the kids and she started writing her own little stories where she used Spanish words. She made her sisters act out her skits and she even wrote a puppet show with a part for all of her friends speaking Spanish. When her friends came over they all had fun preforming her puppet show.
Amber, Alaina, & Delaney singing the opening & closing songs from Speekee TV.
Speekee TV
is an immersion program that is recommended for kids ages 2-10. There are 10 episodes that last 15-20 minutes each and they are actually filmed in real Spanish places. They speak 100% Spanish in the videos and include subtitles in Spanish & English at the bottom. In each episode Speekee, Jim, & the children take us on a new adventure. We visited the park, a cafe, a house, the zoo, a classroom, the market, a bus station, the beach, a garden, and had a party. A
Scheme of Works
is included and if you follow this exactly it will offer a young child a 2 year program. You will have access to planning, worksheets, dictionary, and so much more.
Each unit
follows the same format and will inform you about the unit, what to expect, new words, everyday words, and praise words. If you are logged in you can listen to each word pronunciation, print flashcards, and go to a particular frame of the video.
There are new activities that have been added since we last used this program. There are Cool Clips that are basically the episode divided into scene selections. You can now become friends with Speekee, Jim, & the kids in the episodes. After watching each video you will receive a new friend. You cannot actually talk to them but they will ask you a question in Spanish and you will get 2-3 Spanish answers to choose from. There is also your very own sock puppet to dress & accessorize. You can earn points by watching videos and you can purchase new backgrounds in el mercado (the market).
Subscribers of Speekee can sign up for
FastTrack
. You will receive an email each week that will give you 4 ways to maximize your Speekee learning for the week. Using the program this way you will use the same Speekee episode for several weeks with the whole program lasting 40 weeks. You will be told when to watch the episode, offer suggested Spanish dialog using words from that episode to use with your students, a sketch to use with your own puppets, songs, games, and suggested questions about each episode.
Acting out scenes from Speekee TV.
We received a 6 month subscription to Speekee and Amber (age 11), Delaney (age 10), and Alaina (age 7) have been using it. I signed up for the FastTrack to see how that worked, but since my girls are bigger that was too slow for them. They decided to just log in & work at their own pace. They remembered a lot of the words from last year, and Delaney had even kept all of her worksheets from before. Alaina didn't like it as much as I wanted her to. She likes the videos, but she doesn't like using Spanish words in her everyday conversations like Amber & Delaney do. They love the catchy songs & sing them often (even Alaina). Amber & Delaney liked reenacting the skits last year & they started doing it again this year.
I really like Speekee TV and think it is a wonderful addition to any home with young kids, the videos are very fun & engaging. It is very easy to pick up the Spanish words just by watching the episodes over & over again. I knew we could watch Speekee on the computer & the Wii, but we also tried it on our iPods & Kindle Fire. The videos play really well on both devices, but the subtitles do not show up. I kinda liked this since Amber & Delaney are older, I had them watch the episodes & tell me what they were saying in English.

Disclaimer: As a member of the Review Crew I received a 6 month subscription to Speekee TV, free of charge, to use with my children. I received no other compensation and all opinions are my own.