Teaching our children to read is the most important thing we can teach them. If a child can read with understanding it opens up the world to them.
Reading Kingdom
is an online reading program for ages 4-10 that teaches reading, writing, and comprehension to a third grade level. This program is customized to the child's needs & helps them overcome their weaknesses by using the 6 skills required for reading and writing success. Dr. Marion Blank creator of
Reading Kingdom
, is a world-renowned expert on literacy
.
She incorporates elements of phonics, whole language, and additional skills to teach reading and writing
.

6 skills used for reading and writing success.
Key Benefits of Reading Kingdom:
It provides adaptive instruction customized to each student.
It can be used by most students on their own.
Students enjoy doing it.
It works with other curriculum.
It works with students who are not native English speakers (ELL & ESL).
It provides a groundbreaking, research-based, common-core aligned and highly successful method of reading instruction.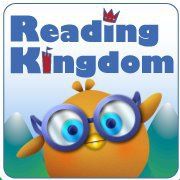 Reading Kingdom is divided into 5 levels covering 30 books. At the beginning of the program your child will take the Skills Survey. The program will then place the child where they need to be in the program. Very young or beginning students will probably be placed in the Seeing Sequences & Letter Land. This will help them with the sequencing of letters and using the keyboard. Any time the child has difficulties on the work they will be given more exercises to master the material. Alaina completed the Skills Survey and was placed in Reading/Writing Level 2. The chart below gives you an idea of where your child is in the program. If you click on the section it will show you the details of each level. This program does not teach typing or require you to know how to type. Alaina uses the pecking method or you can switch to an on screen keyboard.
At the beginning of each lesson the child will work with words that are included in a book, so they will be able to read the entire book when they complete all the activities. The words are taught using activities that teach the word's spelling, pronunciation, meaning and usage. Children are rewarded with a passport when they reach a certain number of points. They receive characters in their passport that pop-up & down.
Alaina is 7 and she has been using Reading Kingdom. After completing the Skills Survey she was placed in Reading/Writing Level 2. The program is very user friendly, and Alaina has no problems using it on her own. She really enjoys using this program, and she is usually asking to do a lesson early in the day. She really likes the passport & enjoys working her way to the reward. If she does not answer in a timely manner the program will show her what she is suppose to be doing. Sometimes Alaina would get distracted and not get her answer typed in time, then I found out that you can change the amount of time the child has to answer. Alaina has a higher reading level than she does typing and spelling, so she gets a little frustrated when she gets to her books because she reads them so fast, and then has to wait for the arrow to pop up to move on. Her punctuation, spelling, and keyboard skills have improved using this program, but her reading level is already above the work she is completing.
The customer service is very easy to work with. One of Alaina's surveys only gave her 2 questions & then it kicked her out. It could have been a computer error on our part I don't know, but I email Reading Kingdom and they reset the survey. This time she finished it with no problems.
Here are some of the activities the children will complete.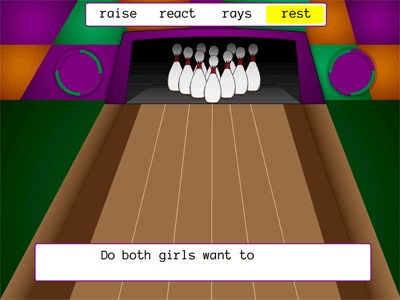 The sentence is read and then the child will click on the correct answer. If it takes them to long to answer the word will blink yellow to give them a chance to click on it.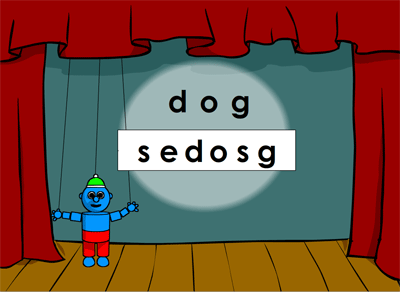 This one works on sequencing. The child will click on each letter of the word "dog" in the order it appears in the word.
This is Alaina's favorite activity, and it is working with the word "like". The child is suppose to click on every "like" in the paragraph, but it must be done in order as they appear in the paragraph.
I think
Reading Kingdom
would work for beginning readers, struggling readers, or English as a second language. If you would like to try it with your child a
30 day free trial
is available.
After the 30 days
the first child is $19.99 a month or 199.99 a year. Each additional child is $9.99 a month or $99.99 a year. The books that your child reads on Reading Kingdom can also be
purchased for $14.99
per level.

Disclaimer: As a member of the Schoolhouse Review Crew I received 1 year membership to Reading Kingdom free of charge, to use with my children in exchange for my honest review.