Math is not a favorite subject at our house. We seem to do better with story problems than with just repetition, because my girls can understand what it going on in the problem. It will be very interesting when we get to Algebra and higher! We may need to call 911.....Math911 that is.
Math911
is a computer program that comes on a flash drive, so you can use it anywhere even without internet. There are practice exercises that include step-by-step solutions and answers for Introductory Algebra, Intermediate Algebra, College Algebra, Statistics, Trigonometry, and Pre-Calculus. The student is never graded for a wrong answer, only correct ones, and students work on the problems until they master them.
As Math911's Disclaimer states this program is not a game, it is all math.
When you first start the program and pick your course you will be started at level 1, or you can choose where you would like to start. Once you master the level you are working on you will automatically advance to the next level. You can always go back and practice the problems from any previous level.
Professor Weissman has the
PDF files
for his Algebra Classroom as a free download at Math911. It is divided into small units and you will learn by reading questions and answers. He will also show you how you will use Algebra in everyday life with humor and jokes to make it fun.
The
Standard Version of Algebra One
is free at Math911. There is an option to upgrade to the
Premier Version
which includes all the other courses for $49.95. If you use the
Promo

homeschool
you can get the entire program for
$9.95
. The Premier Version also comes with free lifetime updates, technical support, and separate grade reports for all family members (including Mom & Dad).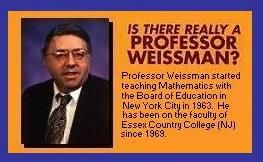 Professor Weissman, creator of Math911, has been a Mathematics teacher for 50 years. He felt the most important part of the textbook were the 'illustrative' examples. His students have agreed with him that there isn't enough of these types of problems included in textbooks, so he decided to create Math911.
My girls have not started Algebra yet, so I have been using Math911. For the most part I stuck with Introductory Algebra, but as you saw above I did venture out a little. It had been a few years since I completed any Algebra problems, and I was surprised at what I remembered. There was also a lot I had forgotten, but after looking at the solutions I remembered how to work them.
This is a no frills math program and it can be used with any curriculum. I didn't have any problems with the download or the upgrade to the Premiere Version. The program is very simple to use, and I really like that there are no games, videos, or time wasters between problems. This would have been nice to have a few years ago when my older 2 kids were home doing Algebra for our homeschool & my son could have benefited from this for his college classes as well. I will definitely be including this in Amber's math class next year.
At only $9.95 every child or adult who is working on or reviewing upper level math could benefit from this program.

Disclaimer: As a member of the Schoolhouse Review Crew I received the Premiere Version download free of charge in exchange for my honest review.