One reason we love to homeschool is that we can take a break from our regular studies and complete a unit about something else. We usually take a week off our regular work to complete a unit we are interested in, but this time we took one day a week to work on it using a study from
Homeschool Legacy
.
Homeschool Legacy offers a variety of
Science & History Once-a-Week Unit Studies
that incorporate different subjects on one topic. They are biblically centered, flexible, and easy. They are so easy that there is no prep work, everything is laid out for you. The books & DVDs that are used for the week are listed on one sheet of paper and it even includes the Dewey decimal numbers. It can't get much easier than that. Each unit can help a Boy Scout or an American Heritage Girl earn a merit badge while studying with the rest of the family. If you complete 4 science or history Once-a-Week unit studies it can count as a full course credit in those subjects.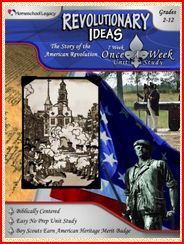 We have been using the
Revolutionary Ideas
Once-a-Week unit study by Sharon Gibson. This study is recommended for grades 2-12, but involves the whole family. It is set up to last 7 weeks and is available as a book for
$19.95
. A suggested schedule is included and each week is set up the same:
Library list ~ Books & DVDs are listed with the Dewey decimal number included.
Focus
Supplies
Daily Activities ~ Which are independent reading & the family read-aloud.
Once-a-Week Activities ~ This can vary for each week, but includes:
Family Devotional ~ This is every week.
History~ Includes making a timeline notebook.
Research
Critical Thinking/Family Discussion
Vocabulary
Drama
Art History/Appreciation
Arts & Crafts
Music
Math
Science
Just For Fun ~ Includes Trivia Games
Geography ~ Maps are included.
Fun and Games
Family Movie or Game Night
!Stump Your Dad Trivia
Trivia questions for the Trivia Game, recipe & party ideas for a Revolutionary party, Historic Sites of Interest (with website) are included in the back of the book along with how to get the most out of the unit.
We received this book as PDF file and I used it with all three of my girls age 7, 10, & 11. This really is an easy unit study with no prep work other than a trip to the library, which we do every week anyway. The supplies are very common things that we already had at home. Risk was the only game of those suggested that we didn't have. The seven weeks topics are:
Week 1 ~ Significant Pre-Revolution World Events
Week 2 ~ The Life and Times of Colonial Americans and their Taxing King
Week 3 ~ The Firebrands
Week 4 ~ Early Battles and "The shot hear 'round the world"
Week 5 ~ America Declares her Independence
Week 6 ~ The Turning Point
Week 7 ~ March to Victory
The book list is very extensive, and all of them wouldn't have to be used. I really like that it is on its own page with the Dewey number listed. I just printed out that page and headed for the library. We found about half of them at our local library, and of the ones we couldn't find there were others on the same topic. One of the books that was suggested for a read aloud had some foul language & some graphic war scenes, but a warning was included with the book title. I read it to my girls, but I could easily leave out the parts that I deemed inappropriate. There are suggested movies and if they are found on Netflix it is noted. We couldn't find some of the DVD's, but that is ok, because we would rather read books or play games than watch TV. The games that were recommended were from the Revolutionary time period and some neat history about them is included. The game Risk is also suggested for geography. The supplies needed for art & music we already had at home, so we didn't have to spend any money on our unit study.
We chose the books we wanted to read out loud and the ones for the girls to read throughout the week. I read to my family every night before bed, so this part fit in with our schedule perfectly. We thought this unit was a lot of fun, it didn't seem like school work at all & we learned so much. Learning about George Washington's favorite game, and Ben Franklin's musical invention gave us a more personal glimpse of these famous people.
The girls worked together on all the activities and their favorite was the glass armonica. Do you know who invented this? We didn't. Although my girls couldn't get a good sound with their fingers they decided to use butter knives and played for a long time. They love music and they figured out what made the note higher and lower.
Writing a Paul Revere version of Yankee Doodle was another activity my girls enjoyed. I don't know how many times they have sung this song in the last couple of weeks. Amber learned to play it on the flute & is learning with her ukulele. We knew nothing about the history of this little tune until now & it is quite interesting.
Paul Revere rode fast he could
Upon a mighty steed
He rode from Boston to Concord
To alert the men and women.
Paul Revere don't get caught
Paul Revere keep goin
Watch for rebels and watch your steps
And be on the alerrrt.
~ Amber
If you have never taken a break from your regular school work to complete a unity study, Once-a-Week Unit Studies would be a great place to start. It was also a good study for those of us who use unit studies regularly. All the prep work is done for you & it is very easy to implement. What mom wouldn't like that?
Homeschool Legacy

sent members of the Review Crew several different Once-a-Week Unit Studies. Sail over to the

Crew Blog

to read about those.

Disclaimer: As a member of the Schoolhouse Review Crew I received Revolutionary Ideas from Homeschool Legacy free of charge to use with my children in exchange for my honest review.