When my son was young he didn't have a very long attention span. Wait.....he still doesn't. His pen would become a rocket flying through the sky, or the book he was reading would become a launch pad for an imaginary rocket complete with sound effects. To get him back on the ground I would make him run laps around the house. I thought I was just burning off his energy, come to find out exercise is good for the brain.
There is a lot more brain activity after just a 20 minute walk.


My girls are a lot more calm and it is very rare if I feel the need to send them out to take laps, but I know they need daily exercise. Lately we have been
playing
exercising using
Fitness 4 Homeschool
from
Family Time Fitness
.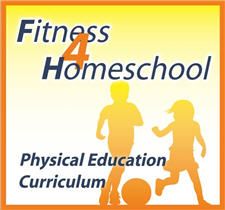 Fitness 4 Homeschool is a complete physical education curriculum for the whole family. This program combines flexibility & fun, and was designed by experts in fitness training, nutrition and body movement. Physical Education (PE) should develop an organized mind and body. Fitness 4 Homeschool was created because there was a need for homeschool fitness programs. It is designed to maximize spatial awareness, body awareness, environmental awareness, enhanced neurological development, mind-body coordination, stress reduction, social engagement, poise and confidence.
Fitness 4 Homeschool
is recommended for K-8 grade and is available for $57.00. Read the
Scope and Sequence
and check out the informational videos and sample videos are available at
Family Time Fitness Youtube channel
. It includes a startup guide, PDF lesson plans, video demonstrations, assessment tools, reminder emails, lifetime curriculum and video updates, access to online webinars and certificates of completion. This is a one time price for the entire family.
The
Startup Guide
is an introduction to parents and students and discusses safety, lists equipment needed, tips on teaching PE, how to integrate it into homeschool, and child assessment including charts to keep track of student development. To help with your families overall health, worksheets are included for meal planning, daily food diary, nutrition log, and a tracking calendar.
The
Lesson Plans
are set up for 260 days of exercise lasting 30-45 minutes each and weather permitting the outside activity will give you another 10-15 minutes. It is recommended that at least 3 days of PE be completed a week, but 5 would be better. Every lesson plan is set up the same way. The skills taught, equipment needed is listed, and suggested recovery time is at the top, then you start with the Warm Up, Activity/Game Play, Cool Down, and lastly an Outdoor Activity. There is a detailed description of every exercise with a link to watch a demonstration video. There is also a one-page lesson plan without the description & video link. This allows you to read about each exercise & watch the video then you can print the one page plan to take outside or a bigger room in your house.
The D
emonstration Videos
are made using real kids doing the activities. This gives you an idea what your kids will look like during their exercise. The videos are on a private Youtube channel & you must have the link to gain access to them. We haven't watched every video link yet, but one of them took us to a very good jump rope team.
We received the PDF file for Fitness 4 Families and I emailed the lesson plans to our Kindle Fire. We liked having the lesson plans on our Kindle because we could use it easily inside & outside. The only down fall is the video links are not clickable from the Kindle. We used our laptop to read the descriptions & watch the videos. Then we would take our Kindle to the living room or outside & use the one-page plan.
We had so much fun & we have never giggled so much while exercising together. Physically we are all at different levels. Amber (age 11) is my very active child & loves every kind of sport and exercise. Delaney (age 10) likes physical games & activities, but she doesn't really like exercises. Alaina (age 7) likes any activity or exercise that everyone else is doing, but she lacks the coordination of the older girls. I have problems with my knees & can't do a lot of jumping. I'm sure we didn't look all that good, but we all got a good workout. There were several days our muscles were sore, even Amber who is always active got a good workout.
We had all of the equipment needed for the program, but everything used is very inexpensive. We used jump ropes, balls, hoola hoops, bean bags, cones, exercise mat, & a stopwatch that was on my phone. I like that the program uses every day equipment in ways we have never thought of and it offers variety of activities, some are repeated, but not enough times for the girls to lose interest. Every day they wanted to do Family Time Fitness as soon as breakfast & devotions were over. They liked it so much they would exercise on Saturday or I would catch them working on their favorites other times during the day. They all three loved Jumping the River the best, they would get so excited if they could beat their previous jump. Crossing the River was their next favorite, and Amber worked on lowering her speed over & over......maybe because I actually beat her time. It helps that I have longer legs than she does.
Alaina said, "I like Jumping the River & Freeze Tag, and my favorite is Cross the River."
"I really like that they made this program so that it was fun. It wasn't just boring old excercises," said Delaney.
Amber said, "I think this is a great excersice program and it was really fun. It made me tired & sore, so that is good thing."
Family Time Fitness is a wonderful addition to our homeschool, it has gotten us to be more active during the week.

Disclaimer: As a member of the Schoolhouse Review Crew I received Family Time Fitness 4 Homeschool free of charge to use with my children in exchange for my honest review.