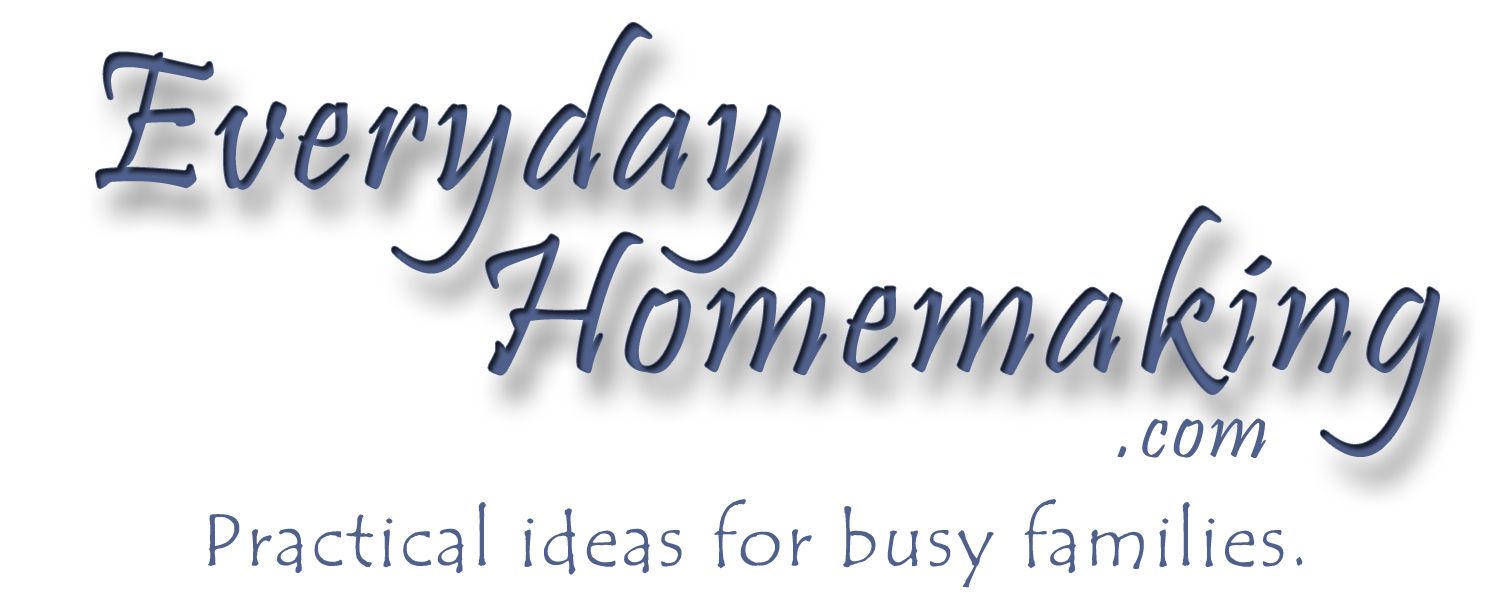 I remember staying the night with my grandmother when I was a little girl. She didn't really fit the grandma mold in a lot of ways. I don't remember her sleeping very much, she would stay up really late with us & still get up early. We would sit on the couch and look at photo albums & if we wanted a snack at 2 in the morning, she would fix it no matter what it was. One of my favorites snacks in the middle of the night was chocolate pudding! Yum! She didn't make pudding from the box it was always homemade. I had tried a few different recipes for homemade chocolate pudding in the past & they were good, but they weren't what grandma made. I hadn't thought about her chocolate pudding until we made the Cornstarch Pudding in the Everyday Cooking cookbook.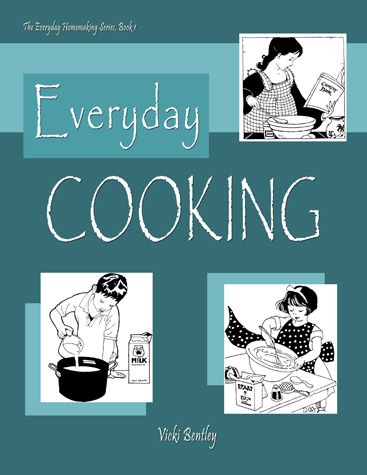 Everyday Cooking
, written by Vicki Bentley, is 100 page cookbook from Everyday Homemaking. Not only is it full of yummy recipes using whole foods there are also plenty of helpful tips throughout. It can be
purchased
as coil-bound glossy cover book for $17.99 or as an e-Book for $14.99. There are a few
sample recipes
from the book at the Everyday Homemaking website. You can also learn about mixers, grain mills, and how to make bread while you are there.
Everyday Homemaking
offers way more than just a cookbook. They also have a chore system, planners, and Home Education 101 e-Book to encourage new homeschool families. They give you practical ideas, money & time saving tips, & family resources that God has used to help them live their lives more abundantly.
Vicki Bentley& her husband Jim have been a foster/adoptive family since 1986 to almost 50 children. Their ministry has been largely to pregnant teens/babies. They have home educated the girls and trained them in "mommy" skills. In 2011 they moved to Virginia so Jim can work to pass the Parental Rights amendment to the U.S Constitution. Vicki has started working for Home School Legal Defense Association as the Early Years consultant and as director of HSLDA Group Services for support groups/organizations.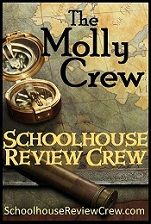 Everyday Homemaking is the very first review for
The Molly Crew
. Some Crew members reviewed Everyday Cooking and other reviewed the
Family Chore System. This was a great vendor to start the Crew & I am looking forward to reviewing other household related items.
I received the Everyday Cooking in the e-book format. I didn't have any trouble downloading my book and sending it to my Kindle Fire. I made a few recipes out of it using my fire & I really like how it shows up on there. After trying & liking a few recipes I decided to print out the book and put it in a 3-ring binder. This makes it easier for the girls to browse through the recipes & I like to make notes in my cookbooks. I usually write any tips or changes I made or who in the family liked/disliked the recipe & why. Most of my family liked everything we tried from the cookbook, there has only been a few things that my picky eater didn't like. I really liked the tips and ideas that are scattered throughout the pages, and the substitutions suggested. In the back of the book there is help with measurements, meal planning, shopping hints, and kitchen equipment. I have never been a menu planner partly because my husband is always on call for his job, but there are suggested menus for a whole month along with blank forms to copy & fill in yourself. I did print some out to have my girls plan a well balance menu. I also printed out the Basic Cooking Skills sheet so they can add it to their planner and fill out as they accomplish these tasks.
I used this cookbook myself & so did all three of my girls ages 7, 10, & 11. They all flipped through the pages to find something that looked good to them. We tried recipes from each section and Alaina's favorite is the Cornstarch Pudding, Delaney's favorite is Turkey Divan, and Amber's favorite is Kritsy's Lemon-Herb Chicken. I'm not sure I could choose a favorite, but I did like the Italian Chicken & Rice and the Red Beans & Rice. The only thing Mike did for the review was enjoy all the food. Of course the Peanut Butter Fudge was loved by all!! (I'm wondering if we all gained weight this month!)
Alaina (age 7) went through the cookbook & she decided she wanted to make pudding. She did most of the work, but of course she needs more help in the kitchen than the other girls. When we had finished the pudding and poured it into our individual bowls Alaina & I decided to lick the spatula & pan. As soon as I tasted this it was very familiar, so I scooped a spoonful out the bowl and ate it while it was still hot. As soon as I had a spoonful I knew it was what my grandma used to make. It was sooo good that I ate my bowl while it was still hot. I immediately texted my sister, that is 1000 miles away, to tell her what I was eating. It brought back so many memories & I ate way too much! I miss my grandma, but I will remember her every time we make this pudding.
Alaina adding sugar to the pudding.
Amber picked out Kritsy's Lemon-Herb Chicken to make for dinner. She decided she wanted green beans & rice to go with it, and for dessert she made the Peanut Butter Fudge. Amber is 11 and has some experience in the kitchen, so she completed her meal with very little help from me. Some kids may need help frying the chicken.
Peanut Butter Fudge
Hamburger Stroganoff
One afternoon Mike got called for work earlier than what we thought he would so I made the Hamburger Stroganoff. It was very quick to make and it was finished before he went to work. The best part....everyone liked it.
Delaney (age 10) made the Italian Chicken & Rice. I thought I took a picture of it, but I can't find it! This turned out really good. In this recipe you just mix all your ingredients together, put the chicken & cheese on the top and bake. Delaney was capable of preparing this recipe on her own, I just helped her make sure her chicken & rice were done when the time was up.
Thank you Mrs. Bentley, this cookbook has been a wonderful addition to our collection and we look forward to trying the rest of the recipes.

Disclaimer: As a member of the Homeschool Review Crew I received Everyday Cooking free of charge in exchange for my honest review.