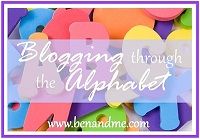 Do you ever wonder why some people have more ambition than others? I have often wondered this, is it a mind set or are some people just more willing to try their best in all they do? When you have several children you tend to notice how different they can be even if you have practiced the same parenting skills with them all.
This is the first week for
Blogging Through The Alphabet
, so I needed something with the letter "
A
". I have 2 daughters whose names begin with A, but I am just going to talk about
A
mber today because she has so much
A
mbition in life.
Amber is the middle child & was a very difficult baby, she cried a lot! About the time of her 1st birthday she changed into a completely different child. She is very calm & is always putting others needs before her own. If her & her sisters can't decide on something she will let them choose first. She also has a lot of ambition for music & cooking.
I think she was 6 when she said she wanted to learn to play the piano. My oldest 2 kids took lessons, but it wasn't what they wanted, so I didn't want to spend more money on lessons if she wasn't going to enjoy it. I gave her a beginner book & told her when she was finished with that book we would look for a teacher. She played every day & it didn't take her long to finish it. I call around to find her a teacher & started lessons. After a couple of months she took a song book to her lesson & asked the teacher to help her with a song. The teacher told her that the book was above her level & to hold on to it for a couple of years........that is the wrong thing to tell Amber. She came home from lessons that day and worked on that song for hours & in a few days she could play it! We didn't keep that piano teacher for very long. She decided she wanted to play the ukulele, so I found a lady who had 2 ukuleles (only a couple months old, her & her daughter didn't practice) for sale. I bought them both. We found some videos on YouTube & bought a book. She sat down & figured out what she needed to do & then showed her sister. A friend at church helped her a little & showed her how to tune it. Now she tunes hers & her sisters every time they play. A close friend of mine knows how much Amber likes music & she knew someone that had a flute for sale. They had just spent $125. to have it repadded & we paid $60. for it. We bought a book with a DVD & she is teaching herself to play this too. I don't even have to remind her to practice, she does it every day & will motivate her sisters into practicing too. If we are getting ready to leave the house & she is the first one ready, she will play the piano until it is time to go.
Usually about once a week Amber will want to cook dinner, the only thing she will have me do is cut up her meat. She will pick out a recipe & kick me out of the kitchen. This week she wanted to make sweet & sour chicken. She made her sauce, got her garlic, onions, & ginger root cut & then asked me if we had chicken. We had whole frozen chickens, but not breasts. She didn't care, she decided we would have sweet & sour steak. It was delicious!!!
All 5 of our kids have been very obedient & hard working, but Amber is our most ambitious child & I hope she doesn't loose her drive for life. This is only one reason we homeschool our kids, so they can use their desires to fuel their learning.
Thank You Marcy for hosting Blogging Through the Alphabet.
Hop on over to

Ben and Me

and see what everyone else blogged about for letter

"A"

.