It is so encouraging to see young people who make the most out of their talents. Hope Auer is a recent homeschool graduate, and has already published her first book,
A Cry From Egypt
. She started writing this book as a school project when she was 13, while she was studying ancient Egypt with her family. The cover designer & illustrated, Mike Slaton, graduated from his homeschool during this project.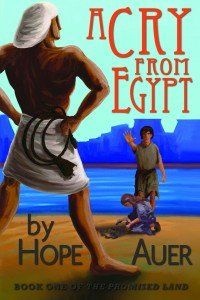 A Cry From Egypt
is book one of The Promised Land series. This book shows us what it would be like to be an Israelite enslaved by the Egyptians. It takes place at the end of the 400 years of Israelite captivity. Through the eyes of Jarah, a young Israelite girl, we explore the types of jobs that she and her friends & family would have been made to do, from making bricks, gathering hay, working in the Egyptian palace, and making linen for the queen. We also experience the fatigue from working so much plus maintaining their own household and how they could have been treated. Jarah's family was divided between the Egyptians gods & the God of Abraham, Isaac, and Jacob. During the miraculous 10 plagues we get to experience what it would be like for the Egyptians to suffer and see how God protected his own people.
I wanted to use this book as a read aloud with my kids, but I wanted to finish what we were already reading first. Amber couldn't wait, she started reading it the very first day. When we sat down to read it, she was excited about it. She said this book is good enough to read & listen to. I read it out loud to all three of the girls ages 7, 10, 11, and their dad. They all loved it & begged for another chapter every time I said it was bed time, even dad wanted to stay up later. Hope does an excellent job in describing the people and the events. We could really experience the whole book, it made us feel like we were part of the story.When we finished the book they wanted to know if we could order book 2.
My girls all know the bible account of the 10 plagues, but this book allowed them to see into the lives of the Israelites & Egyptians. It also helped them to see the awe of God's protection of the Israelites during the plagues. We also took the time to discuss how each plague went against an Egyptian god, and did some research on them. In the story Jarah's mom believed in the Egyptian gods & not the God of her people. This opened up some discussions about how some families we know today don't agree with each other on bible teaching. This book is recommended for ages 8 and up, but we all enjoyed reading this together.
A Cry From Egypt
is brand new and a limited number of advanced copies are available for
$12.50
with free shipping.
Hope Auer has been writing since she was very young, and has a passion for history & telling stories. She is a homeschool graduate and teaches piano, youth theatre, and writes stories. You can visit her blog,
A Cry From Egypt
, where she shares a series on writing.
Great Waters Press
focuses on Making Biblical Life Practical, Hal & Melanie Young are the chief publishers. Hope Auer asked them to read her manuscript for
A Cry From Egypt
and they loved it so much they wanted to publish it.
Some members of the Crew received
Children in Church: Nurturing Hearts of Worship
by Curt & Sandra Lovelace. Sail over to the
Crew Blog
to read about this book and other reviews of A Cry From Egypt.

Disclaimer: As a member of the Schoolhouse Review Crew I received A Cry From Egypt from Great Waters Press to use with my children in exchange for my honest review.