I have always tried to make writing an important part of our homeschool. My oldest daughter started keeping an art journal when she was very young. We always bought books with unlined pages, that way she could write and draw where ever she wanted. She wasn't really into creative writing but she would just write about what was going on in her life. She also loves to draw, so she would draw pictures of things that caught her attention at the moment in her journal too. All three of my younger girls wanted to be like big sister and started a journal when they were very little. They would draw a picture and write a couple of words. When they write in their journal it has always been for fun, I don't correct anything. I just wanted them to enjoy writing, and they do.
I think sometimes my kids get lazy when they turn in a writing assignment to be graded. They do a great job with their details, but they don't always pay attention to the mechanics of their writing. We have reviewed
Time4Learning
in the past & noticed that they also have a program called
Time4Writing
. All three of my girls enjoyed Time4Learning, so when Time4Writing came up as a Crew Review I was eager to try it. The hardest part for me was choosing which child to give it to.
Time4Writing
is an 8 week graded writing course for elementary, middle school, and high school students. They can work through the program at their own pace, or there is a 4 week & 8 week suggested schedule to follow. Each student will get their own certified teacher that will grade the work & offer feedback to improve their writing. A
2 minute tour
of the program is available as well
writing samples
to help you choose where to start your child. If you happen to choose the wrong course you may switch during the first 2 weeks. All the 8 week courses are
$99.00
with
100% Satisfaction Guarantee
. Time4Writing also offers a
Free Newsletter
and
Free Writing Resources
.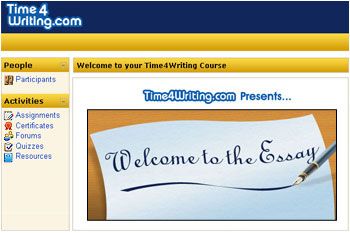 I decided to let Amber participate in this review, I had her write a paragraph so I could compare it to the
writing samples
to figure out which level to put her in. I decided she was ready for the
Middle School Essay Writing

.
This course is divided into 8 units and can be completed at the students pace. It takes about 2 hours a week completing 3-7 activities per week.
Essay Writing Course Objectives by Unit:
Unit 1 – Expository Paragraphs
Students write a well-constructed expository paragraph
Unit 2 – Narrative Paragraphs
Students create a colorful narrative paragraph
Unit 3 – Narrative Essay
Students write a narrative essay using an outline or graphic organizer about an event in their lives
Unit 4 – Narrative Essay with Descriptive Language
Students use descriptive language to write a narrative about the most disgusting meal they have ever eaten
Unit 5 – Narrative Essay with Dialogue
Students write a narrative using dialogue to tell about a time they disagreed with a friend
Unit 6 – Expository Essay
Students write a five-paragraph expository essay
Unit 7 – Expository Essay Using Research
Students write an expository essay based upon research they do using a variety of sources
Unit 8 – Narrative and Expository Essays
Students write both a narrative essay and an expository essay to round out the eight-week course

The program is very simple to use. Amber would log in and once she clicked on her course title it will take her to the course syllabus. Each lesson has a separate link within the units.
This is a screenshot of Unit 2. After Amber read the lesson the Viewed circle would be checked & after she submitted her assignment the Submitted button would be checked. The teacher would then grade her work and send it back with feedback. Every time an assignment was graded we would receive an email from the teacher to let us know it was ready. There is also a message box on the course homepage where you can easily send your teacher a message or see if you have one from her. You can see all the grades and comments from the teacher in the Grades chart and on the Activity report you can see the date each lesson was completed.
Mrs. Gilg is Amber's teacher and she is really enjoying her. This is Mrs. Gilg's feedback on Amber's Narrative Essay from Unit 3, it is the lowest grade that she has received on any of her work so far. I really like the way Mrs. Gilg encourages Amber first by telling her what she did right. Then she explains what she did wrong & what she needs to review. Amber was a little bummed that she scored below a 90 on this assignment, but she didn't feel discouraged after reading the teacher comments.
Amber really likes this program & her teacher. It has also been good for me to see where she is in her writing from someone trained to grade writing assignments. I always worry that I will miss something when I grade her writing. The course has to be completed in 8 weeks, but I like that you can work at your own pace. It gives us the flexibility we are used to.
Thank You Mrs. Gilg for being such an encouraging teacher. Amber has been very excited by your comments on her work.
If you are looking for a different level you can read those reviews on the

Crew Blog

.

Disclaimer: As a member of the Schoolhouse Review Crew I received an 8 week writing course from Time 4 Writing free of charge to use with my children in exchange for my honest review.