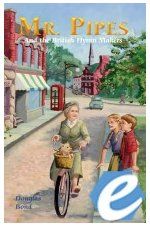 My girls are so funny, when we sing hymns at church they like to see who the composer or writer is. They get excited about a man named James McGranahan, because it is almost like McClanahan. :) They do this every time we sing from our hymnal, so now they recognize quite a few names in their piano lesson books. When I found out about
Mr. Pipes and the British Hymn Makers
I thought it would be a great way to learn about hymn writers without spending a lot of time preparing. I was wrong....we not only learned about hymn makers, but we have a different outlook on the words to some hymns, had some great family discussions, and enjoyed our time in England. I think we will have to buy more books by Douglas Bond.
Every evening before bed I read aloud to my family. I love when we find a book that we can all enjoy, discuss, and learn from while I read.
Mr. Pipes and the British Hymn Makers
was an excellent fit for us. I read this book out loud to my 7, 10, 11 year old girls and my husband. We all enjoyed this book & my girls begged me every night to read
just one more chapter
. I didn't let them see the table of contents or tell them who the next writer they would meet was until we started reading, this had them discussing who they thought it might be. We had the pleasure of learning about Thomas Ken, Isaac Watts, William Cowper, John Bunyan (I've read Pilgrim's Progress but who knew he wrote a hymn?), and many more. There were a few people we have never heard of but there are several included that my girls knew. If the composer was someone they knew they would jump up and get the hymnal or their piano book to show me the song they knew from that composer. This book also sparked a lot of conversation about Christians being persecuted for their faith and it showed us a little as to why they chose to write the way they did. Words in a song can take on a whole new meaning when you realize what some of these people were going through when they wrote them. We look at hymns from a different perspective now.
My husband will also join us for our family read aloud time if he is home. Where he grew up they were not required to have any music classes in school. When we started going to church the only knowledge he had of music was in the form of a tape or a dial on the radio. He couldn't even follow along in the hymnal and was very frustrated, so he didn't sing very much at first. One night while I was reading this book he was shocked to realize that hymns are poems with music.
In
Mr. Pipes and the British Hymn Makers
we follow 2 teenage kids around England while they are there on summer vacation. They find a friend in an older gentleman who tells them stories about British hymn makers. The kids get to experience England while learning about valuable lessons in friendship, praise, and traditional worship. Douglas Bond makes you feel like you are actually there & Mr. Pipes is telling you the stories.
Douglas Bond teaches history and English in Tacoma, Washington where he lives with his wife & 4 kids. He has written several other books about hymn makers that are also available at Christian Liberty Press.
We received our 288 page book in the PDF format and transferred it to our Kindle Fire. It was very easy to transfer and I love the way it reads. It actually has page numbers on each page and when you tap the screen you can see that you are on page 200 of 288 instead of the location numbers. Ok, I love my Kindle Fire but I still love real books and this made it seem more like a real book.
Mr. Pipes and the British Hymn Makers-
PDF is available at Christian Liberty Press for
$8.79.
It was first published in 1999 and is suggested for grades 7-10.
The first 30 pages which includes the table of contents, forward, preface, and the first chapter is available to read at
Christian Liberty Press.

Christian Liberty Press
was created 25 years ago to provide school materials for their own home education and Christian school programs, they now deliver products around the world. They are dedicated to finding, evaluating, and producing curriculum that express biblical worldview that are rooted in the Word of God.
Now to decide which one we want to read next!

Disclaimer: As a member of the Schoolhouse Review Crew I received a Kindle book of Mr. Pipes and the British Hymn Makers free of charge, from Christian Liberty Press, to use with my children in exchange for my honest review.