Who would have thought that reading about the history of our language could be so fun.
King Alfred's English: A History of the Language We Speak and Why We Should Be Glad We Do
is a very easy read that contains a lot of information. I received the Kindle version of this book and found myself using my highlighter a lot. We have a pretty extensive home library and I felt we needed to have this book to add to it, so my physical copy is on its way.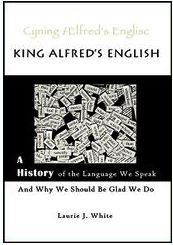 This 170 page book written by Laurie J. White is recommended for ages 12 and up, it is the only book that covers the history of our language below a college level. My girls are all under the age recommendation, so I decided I would read it myself first. I learned so many interesting facts that I was continually sharing them with my family. I think Amber (age 11) will love this book because of all the facts she can use to stump her 21 year old brother. I have added this to her reading list for this school year & the other girls will read it when they are older.
The capstone of the book is the story of how we got the Bible in English and it's influence upon our language.
What were the driving ideas behind the Reformation?
Are the New Testament documents really reliable and how do they compare to others ancient manuscripts?
Why was translating the Bible into English punishable by death?
...and what does all THAT have to do with the history of English?
Did You Know?
The English were NOT British. In fact, they fought each other...a lot. And still today, if you call an English person British, he might very well correct you even though he knows you probably won't understand.
You probably don't pronounce the word "when" like your parents. When you say "when" and "win," do these words sound the same? If you're under 50, they probably do. If you're older, you may still pronounce the sound of the "h" and the words sound slightly different.
The Brothers Grimm compiled German fairy tales, but they were also famous philologist (and what IS a philologist?)
There's a law for the way languages change that backs up Intelligent Design.
For over 300 years the official language of the English court was...French? Seriously. But the English were always fighting the French. That's true. Find out why.
There's a reason we write "knight" but say "nite," and you won't believe how they used to pronounce it.
It was once punishable by death to translate even portions of the Bible into English! Yikes!
Recent scholarship has shown that at least 80% of the King James Bibles is the translation work of just one man. Who was he?
Free supplemental material are provided for
teachers
and
students
. It is suggested that this can be counted as a 1/2 credit high school history course, or a combined 1/4 credit history and 1/4 credit English course. There are resource lists of books, movies, worksheets, and tests.
Laurie White is a homeschooling mom and English major. She started out writing an article on the history of English because she needed an empty-nest-filler when her children graduated. This article turned into 5-years of research & a full-fledged book. She hopes that it will enliven your understanding of English and of our language in general, and most of all, be an entertaining addition to your children's homeschooling experience.
King Alfred's English is available for purchase as a softcover book or for the Kindle. The
first chapter
and the
Table of Contents
are available to read free online.
Would you like to read King Alfred's English?


I have a
coupon code
to use at
Createspace
for the first 5 people who leave a comment on this post. It is good through September 2012 and will give you 50% off. That makes the book only
$8.47
.

Disclaimer: As a member of the Schoolhouse Review Crew I received King Alfred's English free of charge, from The Shorter Word, in exchange for my honest review.