It seems like so many people today only look out for themselves, they don't really care what is going on around them. I want my kids to have a Christ like attitude and make a difference in the world around them. Who Is My Neighbor? is a great curriculum to get them on the right track.
Who Is My Neighbor? And Why Does He Need Me?
is the third volume in the What We Believe series from Apologia. Volume one is
Who Is God? And Can I Really Know Him?
Volume two is
Who Am I? And What Am I Doing Here?
This series will teach your children ages 6-14 how to use the Bible as a lens to view the world around them. Apologia Press published this series written by John Hay and David Webb.
Who Is My Neighbor? And Why Does He Need Me? is a biblical worldview of servanthood. Students will learn what it means to be salt and light of the world & will develop a heart for serving others and a love for God's family that will last a lifetime.
This curriculum is written in a conversational style and is recommended for children ages 6-14 but the entire family can benefit from using this. It is made up of a textbook, notebook, and a coloring book.The 276 page textbook can be purchased for
$39.00
and is divided into 8 lessons.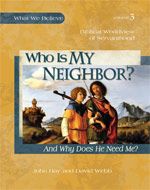 Does Anyone Really Need Me?
How Can I Make A Difference?
Who Is My Neighbor?
Why Did God Make Families?
What Can I Do For My Country?
Why Can't We All Just Get Along?
Who Is God's Family?
Why Does The Church Need Me?
Each lesson follows the same structure by giving you the big idea first followed by short stories featuring characters about the same age as your children. Each chapter contains thought provoking questions, vocabulary words, memory verses, godly character traits, and articles related to the main text. The final portion is a story, adapted from scripture, about someone who encountered Jesus during His ministry on earth.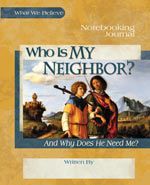 The 240 page spiral notebooking journal can be purchased for
$24.00
. It is full of graphics, writing prompts, puzzles, activities, and 8 full-color mini books. Lesson plans are included or you may follow your own. This beautiful journal will become something you will want as a keepsake.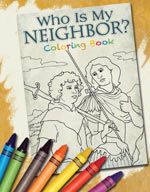 The 64 page coloring book is illustrated by award-winning artist Alice Ratterree and is
$8.00
. Each drawing depicts a story or lesson from the textbook.
I have been using all 3 components of Who Is My Neighbor? with my daughters ages 7, 10, & 11. My girls favorite part of this curriculum are the stories. They enjoy meeting so many different people especially the children. I made sure that my girls knew that the Encounters With Jesus were based on the bible with text added to help them fully grasp the story. We also read the account from our bible to see the differences. The notebooking journal is very beautiful! It is full of activities & writing assignments. The background color and pictures add so much to the pages & it encourages my girls want to write neatly. We are a very artsy family & we love to color so the coloring book is a must for us. The illustrations are very detailed and nicely done.
We worked on this together so I read the textbook to the girls and then they completed any seat work or coloring pages. The conversational style of writing makes it very easy to listen to & my girls would beg for me to read more each day. I like using this series in this way because it generates more family discussions and it allows me the opportunity to point out what we believe as a family.

Disclaimer: As a member of the Schoolhouse Review Crew I received Who Is My Neighbor? from Apologia, free of charge, to use with my children, in exchange for my honest review

.