HearBuilder Auditory Memory
computer software helps students age 5 & up to build their memory. The students join Agents Kim & Joey as they save MemoryTown from Dr. Forgetsit. HearBuilder teaches strategies for remembering numbers, words, sentences, and stories by practicing auditory memory, closure, and comprehension skills. There are 5 listening activities:
Memory for numbers (3-7 digits)
Memory for words (3-5 words organized by syllable)
Memory for details (1-4 details)
Auditory Closure (Sentence Completion)
Memory for WH (who, what, when, where, why) Information (2-3 sentence/2-4 questions)
The Home Edition allows you to use this program with up to 4 children. You can choose levels of play for each child, monitor & print their progress in the progress reports. Background noise can be added to the expert level to give children practice remembering in distracting situations.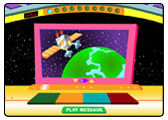 Alaina (age 7) has been using HearBuilder for the past few weeks. She likes to play and doesn't even realize she is working on her auditory memory. I am looking forward to seeing the improvements she makes in the long term since it has already helped her with number memory. I have also noticed she is paying more attention to details around her.


This is Alaina's favorite part of the program. She was given details about a child & she had to choose the one that matched the description.
The HearBuilder Auditory Software Program
home edition can be used for Windows or Mac
(system requirements)
and can be purchased for
$69.95
. I have a 30% coupon code listed at the bottom of this review.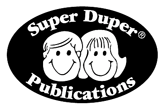 Super Duper Publications was founded by
Sharon & Thomas Webber
in 1986. Sharon was a Speech-Language Pathologist in the public school when she started creating therapy materials & Thomas was a practicing attorney before focusing his talents on developing therapy materials. Starting out with only 2 products & 2 types of stickers they now offer hundreds of educational and therapy materials for home & school.
We have fallen in love with their catalog, it is beautiful! There are 280 pages of products with picture for almost all of them. They have even included a page of "Gotta Have!" stickers.
Member of the Review Crew also reviewed Jeepers Peepers Glasses Game & Hear Builder Following Directions Software Program. You can read reviews of those at the
Crew Blog
.
Super Duper Publications gave us some promotional codes just for TOS Review Crew readers. You can get 30% off all three review items if you order before 8/31/2012.

Disclaimer: As a member of the Schoolhouse Review Crew I received Hear Builder Auditory Memory from Super Duper Publications, free of charge, to use with my children, in exchange for my honest review.